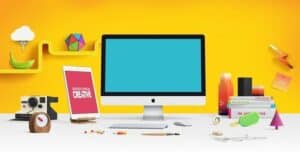 10 Best Strategies to Market Your Website
Setting up a website for your business is a big deal, but it's only part of the battle of winning over new business. With more than one billion websites floating around on the internet, SMBs have to be very smart about marketing their pages and attracting qualified traffic. This is, after all, the only way to generate new leads and make more sales through an online medium. 
But how can you possibly stand out amongst countless competing sites? We're here to tell you that this isn't as "Mission: Impossible" as it seems. In fact, by the time you're done reading through our tips in this 2-part series, you'll be ready to take your website marketing strategy to the next level. Let's start with the first five tips:
1. Embrace Search Engine Optimization
Have you ever wondered how Google determines which websites to display at the top of your search results page? This is search engine optimization (SEO) in action. The best web marketers are able to anticipate which keywords and phrases their target audience are most likely to type into a search bar. By strategically integrating these words into their pages' content, browsers like Google will optimize the results to reflect customer needs. In addition to flagging keywords, SEO is contingent upon the quality and validity of content. Web crawlers look for backlinks and inbound links to indicate the popularity or significance of your site or content.
2. Maintain a Blog
Online readers and web crawlers alike pay attention to websites that turn out fresh, original, and relevant content on a regular basis. One of the best ways to provide readers with a steady stream of content is by starting and maintaining a blog with a set schedule. This will tell users when to return for more information and will keep you fresh in their minds. In addition to driving traffic, blogs allow you to establish your own unique "voice", act as an industry authority, and even gain connections with other industry leaders by asking guests to post a spot on your blog from time to time.
3. Invest in Pay-Per-Click Advertising
PPC advertising is a fast, simple, and effective way to drive traffic from search engines to your website. You'll be required to pay a fixed price for each click that your ad gets, but if you're successful with your efforts, you'll be able to convert the "clicker" into a customer so that you see a return on your investment.
4. Retarget Visitors
A retargeting ad places a tracking cookie on the computers of your website's visitors. Once your visitors click away from your site, they will continue to see ads that will redirect them back to your site for goods or services. In this way, even traffic that left your site without a conversion will be retargeted in a way that will provide you with a second chance to earn their business and provide your users with another opportunity to benefit from the products and services that you have to offer.
5. Try Facebook Ads
With millions of Facebook users, this is a route you can't afford not to try. Facebook ads give you the power to target consumers from specific regions, friends of your existing customers and followers, and people who "like" similar pages. You can set a daily spending allowance to make sure that this mode of advertising suits your budgeting needs and allows you to get the most bang for your buck.
6. Create Videos
Everyone loves YouTube. Why? Because many consumers are visual learners. People want to know how a product is going to work, or what to expect from a specific service before they make a buying decision. Businesses can create video demonstrations that will provide their target audience with product demonstrations, troubleshooting tips, customer reviews, and so much more. A compelling CTA at the end of the video can direct your viewers back to your website for more information, a special offer, etc. in order to create valuable leads.
7. Embrace E-mail
There's a reason why e-mail marketing is such a staple. Despite what you think about users ignoring spam, e-mail can be a very effective tool — so long as it's used properly. Instead of slamming prospects with unsolicited advertisements, you can provide consumers with a compelling reason to subscribe to your e-mail list. Contests, tutorials, sneak previews, special offers, and other methods can be used to motivate people to actually choose to receive your marketing content. This will keep you at the top of their minds and lead them to a buying decision.
8. Encourage Customer Reviews
When you're searching for a product or service, you will generally be more likely to trust a product that other customers have reviewed and talked about favorably online. This is because it gives you a clearer understanding of what you can expect. If there are no discussions about your goods and services online, consumers may be more likely to turn to the competition. Be sure that you are listed on sites like Google and Yelp for customer reviews. It's also smart to create fan pages on Facebook where customers can talk about your business and participate in related forums.
9. Be a Social Butterfly
Social media is great for getting new consumers to discover your brand and promote your website. Set your blog posts to automatically sync up to your Facebook, Twitter, and similar social media accounts. Write up social media posts that link back to your main website for contests, promotions, and tips. When this content is "liked", "shared", or "retweeted", countless new viewers will have access to your page. In addition to this, social media enables you to "listen" to what your consumers' needs and interests are, enabling you to create content for your website that is better catered to what they want to read.
10. Stay Involved in Your Community
Never underestimate the power of community involvement and public relations. Staying in the public eye through contributing as a source in journalist's articles, taking part in fundraisers, supporting local teams, and being a part of regional charity events will help to build your reputation and brand yourself as a business that truly cares. The more people hear your name, the more compelled they will be to look you up and give you their business.
Here When You Need Us
Have questions? Looking for more expertise? Ready to take the next step?