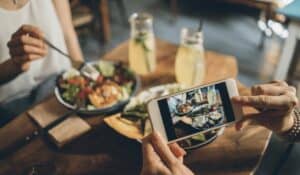 10 Marketing Strategies for Restaurants
Attention, restaurant owners! 2018 has arrived, and it's time that you make a huge splash.
We all know that your food is delicious, your workers are awesome, and your location is primo-perfecto, but none of that matters if your marketing isn't up to snuff. After all, how are you going to sell more food if more people don't know you exist?
Be a Lot More Social
No, we don't mean to go out and get more involved with your community. Oh, wait – actually, that's a good idea, too. Get out there and stay in touch with people! But while you're at it, what we really want you to do is create a social media presence. There are tons of social media platforms out there, but it's best to stick with the usual suspects. You know the ones (Facebook and Twitter). That being said, as a restaurant, your biggest social media tool is Instagram. This is the best place to share pictures of your glorious food in addition to photos of your staff and restaurant (including behind-the-scenes action in the kitchen). A close second to Instagram would be Facebook in terms of sharing photos, so focus on that one, too.
Redesign Your Website… Or Get One!
If you don't have a website for your restaurant, then you're already behind tons of your competition. That's okay, though – it won't take too long to catch up, especially if you enlist the help of a marketing agency to design and launch the site for you. And if you do have a website, but its design was originally conceived when Britney Spears was just starting out, you definitely need to look into getting an overhaul. Seasoned pros can help you with that, too. They'll bring your website into the modern world, optimize it for mobile (where the real action is), and increase your number of online visitors in no time.
Be Aware of Your Online Reputation
Your reputation is just as important as the taste of your food. These days, instead of write-ups in the local restaurant section of a newspaper, you need to worry about what guests to your eatery have been saying online about your service, food, atmosphere, etc. Yelp is a popular online destination for consumers to post good and bad experiences they have with any business. Facebook is another popular place for people to post any complaints they may have, and they'll do it directly on your page. The best thing about Yelp, Facebook, and similar services is that you can easily see the comments and respond with solutions to fix the problem and perhaps save a customer (not to mention looking good to people browsing the sites).
Utilize Email Marketing
As social media has gained in popularity, email marketing has stopped being such a big part of the marketing conversation. In fact, some companies forgo email marketing altogether or rarely use it. This is a huuuuuuge mistake. Email marketing is alive and well, and the returns continue to be great for companies all over the world. The rules have changed a bit, but if you design an email that targets the right people, includes an enticing headline, and looks visually appealing to the reader, you will receive a great consumer response.
Contact Local Food Bloggers and Influencers
Bloggers and influencers continue to be vastly under-appreciated. When one of them gets a mention in a news article, they're typically met with multiple people asking "Who?" or saying, "Never heard of her." While that may be true when it comes to casual readers, the fact that is that local food bloggers and influencers are not just influential in terms of the popularity of a business – they're indispensable. By reaching out and providing incentives like free meals and swag, you can become a part of their network of "foodies." Some will even go so far as to invite you on their podcast or to conduct an online interview with you that will help advertise your business with minimal effort or cost.
Reach Out to Food Apps and Get Listed
There's a good chance that you probably don't even know about all of the food apps available to you right now. Heck, you might not even know exactly what a food app does. Like their name suggests, food apps are applications that you can access through your smartphone to find popular eateries of all shapes and sizes in and around your area. These apps are popular with users, as they make the hunt for a great place to grab a meal so much easier. These apps are always looking for new restaurants, so if yours isn't there, reach out to them and make sure to get it added.
Conduct a Fun Contest
People love a good contest, especially when there's an awesome prize for the winner. Social media has made it easier than ever to conduct contests to help draw in customers. The best strategy is to find a way that participants can interact with you online – things like taking a photo that uses your business for inspiration or maybe creating their own "failed" versions of the food you offer are great ways for participants to have fun and get excited about your restaurant. If you can conduct an interactive contest every month or two, you'll build up your number of followers in no time.
Trade Social Shout-Outs for Free Meals
The idea of "social paying" is a relatively new concept, but it's definitely one that's starting to catch on. Similar to connecting with influencers or food bloggers, this strategy targets people with a small number of followers on a social media platform like Twitter and provides them with some sort of discount or free item if they will create a post (or tweet) about your restaurant. Even if they only have 100 followers or so, this can quickly become a worthwhile investment if two or three of them decide to give you a try.
There you have it – eight incredible tips that will boost your restaurant's online presence. If you employ the strategies, you'll see an increase in customer engagement before you know it. For an even better outlook, reach out to the marketing professionals at Madison Taylor Marketing. We'll create a plan that will blow your socks off and get tons of people to find your company with minimal effort.
Here When You Need Us
Have questions? Looking for more expertise? Ready to take the next step?