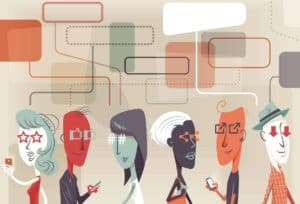 10 Ways Hashtags Can Boost Your Marketing
Raise your hand if you're aware that the hashtag turned 10 years old last year. Yeah… we thought so. Hashtags may have been around for a full decade, but their influence has really only been felt for the last few years. This little symbol has become yet another tool in a company's marketing arsenal. Like social media itself, when you utilize them correctly, hashtags can boost your digital presence. So, how can you do this the right way? We've created a two-part blog series to help you maximize your efforts through the use of hashtags. You can start by utilizing these five simple techniques:
Use Relevant Hashtags
The most important aspect when using hashtags is to make sure they're relevant. Using random words for no reason at all doesn't make any sense. What you want to do is choose words that are relevant to the topic that you're posting about or one that links to a similar topic. This is easy to follow, but you would be surprised how many people break this simple rule. If in doubt, ask yourself that if you were to click on the hashtag as an outsider, would you be happy with your specific post appearing with it?
Avoid Being Vague
We're not going to make fun of anyone here, but if you're hashtagging words like water and soup, then you're missing the point of what makes them an effective marketing tool. Using simple hashtags like these, which is oddly enough a common practice, will connect you with all sorts of posts that have absolutely nothing to do with the subject at hand. If you use a hashtag like #water, for example, you'll be connecting to everything from lakes and water bottles to swimming pools and toilets
The more complicated your hashtag is, the less likely that it will be relevant and the less likely someone will actually pay attention to it. Some hashtags are so long, in fact, that it's hard to understand exactly what the hashtag says. Yes, you can use certain phrases, but stringing a bunch of words together is likely to have a negative impact on your interaction with potential and existing customers.
Use a Limited Number
Have you ever seen a Facebook or Twitter post with seven or eight hashtags at the end of a sentence? That's pretty annoying, right? Not only is it annoying, but it's also counterproductive. The use of one or two hashtags have shown to increase engagement with both individuals and companies. On the flipside, however, the use of more than two hashtags on a single post does exactly the opposite, where engagement actually drops.
Create Branded Hashtags
Using hashtags that utilize popular words or phrases is a great way to boost your digital presence. But, it's even better if you can create your own branded hashtags for your company. You don't have to use them every single time you make a post, but if you can create a hashtag that incorporates your brand name or something specific about your business, then you can use this to create a kind of narrative for your company.
Focus on Trending Topics
Popularity begets popularity. If you notice that something is trending, it's not a bad idea to jump on board and get involved. This is a common practice that many businesses routinely use as a way to promote their brand and awareness of their products and services. Just make sure that you're only focusing on topics that you believe in and only those that aren't controversial, or your plans could backfire.
Show Your Personality
No one likes a fuddy-duddy, and they especially don't like the businesses they support to be bland and uninteresting. Hashtags provide an opportunity for businesses to really show their personality in ways that other social media tools often do not. While it's a good rule of thumb to use hashtags that are relevant to the subject matter, which we previously covered in the first part of this blog, having a little fun with the hashtags you use can endear you to potential and existing customers. Just be careful with the verbiage you use so as not to offend anyone with your cheekiness.
Use Hashtags on Multiple Social Media Platforms
Using specific hashtags across multiple social media platforms will extend your reach even farther. Several platforms, such as Facebook, Twitter, Instagram, and Google+, allow you to use hashtags quite effectively, while ones like LinkedIn have yet to join the fray. For those where hashtag use is not only typical but expected, you want to use hashtags across all of the ones you're signed up with. Not only will this expand your reach, but it will also present you as a more all-inclusive type of company as far as potential and existing customers are concerned.
Check Before Using It
As we've learned since we were kids, it's always better to be safe than sorry. You might not think that this would have anything to do with hashtags, but it does. Certain hashtags have been used to promote unsavory products, services, or even people throughout the years. Therefore, it's a good idea to experiment with the hashtags you choose to ensure that there isn't some kind of negative publicity surrounding them – because the last thing you want is to get mixed up in something that will put your business in a negative light.
Take It Offline
While hashtags are undoubtedly an online marketing tool, you may have noticed that they're beginning to pop up in real life, too. This is especially true if you create a hashtag for your brand or one that immediately links back to your company by way of a specific post. All you have to do here is add a hashtag to any type of advertisement that goes out, even if it's simply a flier or direct mailer.
Now that we've completed the list, it's up to you to go out there and make use of hashtags like you've never done before. Okay, actually, that's not entirely accurate. The professionals at Madison Taylor Marketing have spent years helping businesses just like yours improve their digital presence by designing better websites, expanding their brand's audience reach, and taking their social media platforms to the next level. Reach out to us today, and we'll help you get where you want to be.
Here When You Need Us
Have questions? Looking for more expertise? Ready to take the next step?