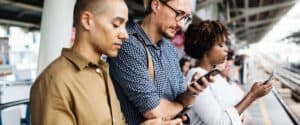 10 Ways to Increase Profits Thru Social Media
Social media has become a part of our everyday lives. Although there are some drawbacks in terms of information (and opinion) overload, the benefits gained by businesses cannot be oversold. If used properly and wisely, social media can increase your company's profits in both small ways and in ways that will make your head spin. We want you to succeed, of course, so what we've done is compile 10 ways that you can use social media to increase the money you're bringing in.
Technique #1: Create an Actual Strategy
What many people love about social media is the flexibility and simplicity of utilizing it. You can get started immediately after setting up a profile, and it takes no time to figure out the basic workings. This may be fine for a personal account, but a business account needs to put in a little more effort. What we're talking about here is creating a strategy that defines your goals, targets your intended audience, and works to grow over time.
Technique #2: Spend Money to Make Money
Many business owners initially turn to social media because it's a cheap alternative to other forms of advertising. You don't have to pay any money out-of-pocket to create a business presence on Facebook, Twitter, LinkedIn, etc. But this is only the start of what you should consider to be a robust marketing campaign. If you want to maximize your exposure, spending money on paid ads to extend your reach or on a professional marketing team to do the work for you is invaluable. This is where the real exposure – and profit – lies.
Technique #3: Bring Value to the Table
The idea of offering "value" in this context can mean a variety of things. You could take the suggestion literally and offer discounts and coupons to visitors who read your social media posts. Or you could provide them with things like helpful information and entertainment. The point is that visitors need a reason to not only come back to your profile, but also to share your content with friends and family, which can exponentially help your company's bottom line.
Technique #4: Be Consistent
If you decide to begin a social media marketing strategy, then it's imperative that you stick with it. Starting and stopping the use of social media over and over is a great way to turn people off of your business as a whole. You'll be seen as indecisive and inconsistent, which can hurt your reliability as a company. This is why your next social media marketing plan should be handled by a professional agency whose primary focus will be to improve your brand and bring in more customers.
Technique #5: Be Frequent
Posting a link or two every month simply isn't going to cut it. These days, existing and potential customers expect to see posts on a regular basis from a multitude of sources. The best way to stay fresh in a person's mind is to post on a frequent basis on the most popular social media platforms. You should be targeting Facebook and Twitter, at a bare minimum, but there are others – Instagram, Pinterest, Google+, LinkedIn, etc. – that can expand your reach even farther.
Technique #6: Give It a Personal Touch
Unless you're part of Captain Picard's crew, you probably don't like to be spoken to by a robot (sorry…android). If your social media postings sound bland and robotic, existing and potential customers will quickly lose interest. No one likes being talked to by an automaton, so what you want to do is give your postings a more personal feel. It's fine to speak to customers as the voice of a company, but speaking to them as an individual a good portion of the time will likely attract more people.
Technique #7: Encourage Engagement
This can be a bit tricky, but if you can pull it off, you'll enjoy even more benefits. What you want to do here is to create posts that will encourage readers to respond and engage with you and other commenters. You can do this by asking questions or asking them to share experiences. Just don't attempt to engage them in anything that might cause a fight to break out, such as political opinions (which we advised against in a post just last month).
Technique #8: Create Profitable Calls-to-Action
Once some of the previous seven tips have brought more customers to your social media platform, you'll be ready to hit them with a call-to-action every once in a while. You don't want to act or sound "salesy" or desperate. The goal here is to make selling to the customers who have already shown an interest in your company as seamless and organic as possible. This is where you'll really begin to understand the effectiveness of what you've been doing up until this point.
Technique #9: Analyze Your Efforts
Going through all of the rigamarole that we've been discussing so far won't do you a heck of a lot of good if you don't track its effectiveness. Here, you want to turn to the world of data analytics, which will allow you to see what worked and what didn't so that you can prepare for the next marketing stint with an even better plan than before. You can do this yourself, but employing the use of a professional marketing company that knows how to take the info and tweak it just right will mean bigger profits in a shorter timeframe.
Technique #10: Scale the Campaign
You know what's better than a marketing campaign? A bigger, badder marketing campaign! When all is said and done, an effective marketing strategy should be magnified the next time around so that it extends its overall reach, pulls in a larger audience, and – you guessed it – increases your profits even more than before. This may include an increase in posting regularity, the addition of more social media platforms, and possibly extending your overall marketing budget.
Now that you've read through all 10 tips for increasing your profits by way of social media, we hope that you take what we've said to heart. When you're ready to give our team a whirl and find out what an effective marketing strategy can do to your bottom line, reach out to the experts at Madison Taylor Marketing. We'll organize an effective marketing strategy using social media and plenty of other tools at our disposal.
Here When You Need Us
Have questions? Looking for more expertise? Ready to take the next step?