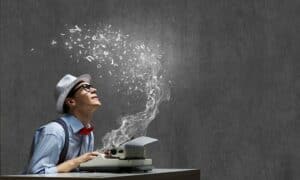 2017: The Year of Content Creation
If yours is like most businesses, you probably see a new year as a "reset" or a chance for a new beginning. THIS is going to be YOUR year! You're going to achieve your goals, you're going to reach new heights, you're going to inspire your team, you're going to build a bigger audience…
You're going to step up your content marketing game!
Let that be your mantra this year. With the right attitude and commitment, 2017 could be the year that you see huge results in terms of building a larger customer base and retaining your existing clients through the use of unique, helpful, powerful content. So, how are you going to make it happen? With this simple guide, of course! Here's everything you need to know for 2017 – the year of content MARKETING!
Emphasis on MARKETING
Content marketing is not a new concept by any means. Unless you've really been out of touch, you've at least heard about inbound content marketing, and you've probably even given it a whirl. Unfortunately, many small businesses throw in the towel before seeing any real results. Why aren't these companies finding success right away?
The number one mistake that people have made with content marketing is that they put all of their emphasis on creating content, and little to no effort is put into actually marketing that content. In order to make 2017 the year of content marketing, you must totally rework your plans. Instead of pumping out tons of content that no one ever knows about or reads, you should be generating a lower volume of high quality content that you can market to the masses. This is how you build a fan base and grow your business.
Native Advertising
Native advertising is the key to successful content marketing in 2017. Meeting your audience where they are with content that makes contextual sense will make a huge difference in your efforts and will help you uncover solid leads that can be converted into repeat customers.
Influencer Marketing
You KNOW that your product and services are freaking amazing, but your audience may think that your opinion is just a *little* biased. That's why consumers are so much more likely to trust the reviews and opinions of their peers and key influencers over the words that come directly from a brand. For this reason, it's a good idea to discover who the key influencers are in your market space. Reach out to these people, offering free samples and products in exchange for reviews.
Purpose-Driven Marketing
Don't just create content for the sake of writing content. Every word you type, speak, or share in any medium should have a clear purpose. You need to know WHY you are creating this content, what purpose it is supposed to serve, and the type(s) of results you would like to see.
Sponsored Content
Sometimes, you gotta pay to play! Investing a little cash into having your content promoted to your ideal audience will put a lot more weight behind your message.
Have an Actual Plan
While many businesses have experimented with content development and marketing, most of them are still doing things haphazardly. Posting a single blog post every few weeks or randomly firing out a tweet when the mood strikes will do you no good, though. It is imperative that you have a solid, actionable plan for reaching the masses. In addition to establishing a set posting schedule, you should also develop a written strategy that details the types of content you wish to generate, your objectives, your plan for measuring results and success, and your strategy for marketing your content.
So, whaddya say? Is 2017 going to be your year for content marketing? The professionals at Madison Taylor Marketing can help! Give us a call today!
Here When You Need Us
Have questions? Looking for more expertise? Ready to take the next step?