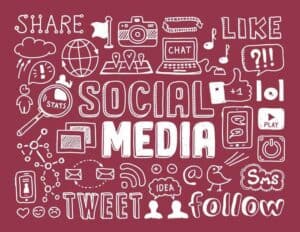 4 Social Media Apps You Need to Use
In today's fast-paced world, social media has become an invaluable marketing tool. While you're likely familiar with the most popular networking platforms like Facebook, Twitter, Instagram, and LinkedIn, however, you may be missing out on the opportunity to take advantage of other social communities. Sure, the giants guarantee the masses, but some of the lesser-known sites can connect you directly with a more niche audience, leading to increased consumer engagement and a higher lead conversion rate.
Interested in learning more? Read on to get the facts about four cool social communities that could help grow your brand.
1. Quora
Although it's been around since 2009, many businesses still aren't as familiar with Quora as they should be. The site's main mission is "to share and grow the world's knowledge." Site users can post questions, answer queries based upon their specific knowledge, and read through questions and answers posted by other site members. In this way, users have the ability to learn just about anything that other people have learned over time.
So how can your business take advantage of Quora? This community acts as a perfect platform for establishing your expertise and building credibility with consumers who are interested in the kinds of things that you know. By setting up your profile to alert you whenever another user poses a question about your industry, you can quickly jump in and provide helpful answers. Marketers can also benefit from Quora by checking out what types of questions consumers have about specific types of products and services, and their most common pain points.
2. SlideShare
You may have heard of SlideShare or even come upon individual SlideShare offers while browsing the internet, but we're willing to bet that you haven't actually visited the SlideShare platform itself. The platform joined LinkedIn in 2012 and has been a perfect companion, acting as the top place for publishing and sharing professional content. In fact, SlideShare has earned a spot in the top 100 most-visited sites in the world.
Businesses can benefit from SlideShare in several ways. First, the sharing of presentations, infographics, and videos can build up brand awareness. Secondly, it allows you to further demonstrate your expertise. Finally, it provides you with the opportunity to see what others in your industry are doing so that you can always come out ahead.
3. Reddit
Although extremely popular, Reddit can seem a bit overwhelming and confusing to a marketer. The page features fascinating news articles, cool links, geek culture, social commentary, and much more. At first glance, the hodge-podge mix of information can seem like an unlikely choice for marketing, but can you really afford to ignore an online community this large?
Businesses should take advantage of Reddit's following by posting new content and interesting links to relevant forums. You can also use the platform to collect valuable insight on your target audience.
4. Inbound.org
Inbound.org acts as a forum for marketers to share thoughts, ideas, and insights with one another. Users are passionate about marketing and thought-leadership, ensuring that you'll enjoy an array of feedback from folks from all types of backgrounds and industries. Whenever you're in need of a boost of creativity or inspiration, the community can get you back in the saddle.
If you want to increase your relevancy in the business world, we encourage you to check out the four lesser-utilized social media platforms that we've discussed today and do a little digging around on the Internet of your own. You can also reach out to the experts at Madison Taylor Marketing to further discuss the best networks for your marketing strategy.
Here When You Need Us
Have questions? Looking for more expertise? Ready to take the next step?