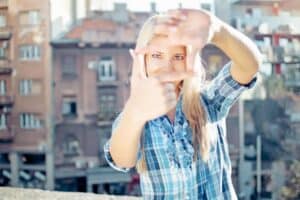 4 Tips to Make Your Video Content "Pop"
Everyone knows how much we love written content around here. Between blogging, websites, news feeds, click-to-pay ads, email marketing, social media posts, and other platforms, we have definitely covered the gamut over the years. The problem, if you really want to call it that, is the fact that many companies focus only on the written word and forsake other forms of communication. Trust us – that is a mistake.
Take video content, for instance. These days, it's easier than ever to create video content for your customers, but many businesses don't do it. And those that do partake in the creation of videos have no idea how to create videos that get attention. No matter which category you fall into, these tips will help any video content you create really "pop":
Tip #1: Don't Use a Script
Since our world is filled with scripted television and movies, your natural inclination might be to write a script for anything that you decide to film for your business. The problem is that unless you hire a professional production team and trained actors, your scripted content will come across as anything but authentic. It's much better to figure out a basic outline and start filming with little or no rehearsal. Speak from the heart and your audience won't care if you're not polished. In fact, they are likely to feel more connected if you produce something that looks good but is a little rough around the edges.
Tip #2: Develop an Awesome Opening
Back in elementary school, there's a good chance that you were taught about "grabber" sentences. Forsaking any attempt at mystery or subtlety, these grabber sentences functioned exactly as you expected they would – they grabbed the reader right from the start. Video content uses a similar concept. Basically, if you want someone to continue watching your video past the first few seconds, you better give them a reason to stick around. This can be done in a variety of ways, from an amazing image to a simple factoid that tempts them to watch more of the video. And once they get past the first few seconds, they're much more likely to stay for the duration of the video.
Tip #3: Make It Short and Sweet
Yes, we know you love your company and want to talk about your products or services for hours on end, but you have to realize that most potential customers won't have nearly the same level of interest as you do. This means that creating a 15-minute presentation is not only unnecessary but will often cause viewers to tune out long before you get to the main point of the video. While you may have tons of information that you would like to convey to your audience, it's important to keep your video at two minutes or less.
Tip #4: Use a Call-to-Action at the End
Creating a great video is all fine and dandy, but what you really want to achieve is a conversion from viewer to customer. If you want to do that, then you're going to need an effective CTA at the end. Just as importantly, this call-to-action must be presented in a natural, unscripted way. Sticking on a cheesy or obligatory "buy now" notification at the end will do a great job if your ultimate goal is to drive potential customers away. After all that hard work, you definitely don't want to lose them at this late stage of the game. Develop a subtle CTA that entices them to continue but doesn't ram it down their throats.
Whether your marketing strategy includes video content or not, it's important that you partner with the right agency to ensure that all of your needs are met. Madison Taylor Marketing works with businesses of all sizes to bring their brand to the masses and increase their exposure, which translates to bigger profits. Give us a shout today and we'll get started immediately!
Here When You Need Us
Have questions? Looking for more expertise? Ready to take the next step?