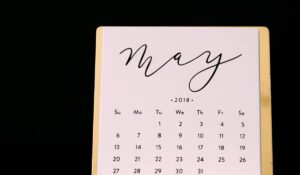 6 Tips to Building an Awesome Content Calendar
Your content calendar should hold a high place of importance in your overall digital strategy. However, the idea of building one out can feel a little daunting – where do you begin? How do you convey who you are to the masses? We've compiled six rules of thumb to get you started on the journey to great, consistent content. Read on!
Your Audience Matters
The first question you should ask yourself when building out your monthly (or weekly, or bi-weekly – whatever works for you!) content calendar is simple, but crucial: who will you be talking to? If you sell artisanal jams made with local berries, you will likely not target teenagers – chances are, you'll want to have a digital conversation with adults who enjoy local foods, cooking, entertaining, and the like. If your business helps people plan adventure camping trips, you'll want to talk to people who express interest in adventure, travel, and the outdoors – likely, you won't go after people who don't enjoy travel or who shriek at the mere idea of camping.
The most straightforward way to make sure you're speaking to the appropriate audience is to develop and use buyer personas. Create fictional (but reality-based) characters that represent your ideal customers. Give them names, habits, likes, and dislikes. How big is their family? What kind of car do they drive? What industry do they work in? As you build out your content calendar, use these buyer personas to inform your strategy and develop your messaging.
Consider the Funnel and the Buyer's Journey
If you've been in business for longer than, oh, two weeks, you'll need to pay attention to something called the sales funnel. You may have heard of this concept (a version of it has been around for over a hundred years), but you may not understand why it's so important. It is basically a framework that details the customer experience process from stranger to buyer.
The funnel is broken into three pieces: When your potential customers are at the top of the funnel, they're searching for answers and solutions to their problems. When they're in the middle, they have determined that you and your business may be a good fit, and they're digging deep to see if it's a good move to buy from you. When they're at the bottom, they're looking at becoming a customer and evaluating the steps it will take to become one.
You can also look at your customers through the lens of which stage they're at in the sales process – this concept is called the Buyer's Journey. Like the funnel, the Buyer's Journey is broken into three stages: awareness, consideration, and decision. Treat each of these three stages with equal importance as you build out your calendar.
The takeaway: each stage of the Buyer's Journey and each section of the sales funnel is important. Don't limit your messaging simply to attracting brand-new customers – make sure you are crafting content that's relevant to customers who are deciding if you're a good fit or who are ready to make that first purchase.
Branding and Logo Usage Should Be Consistent
Does your company have a solid logo and brand identity? If your answer is no, well… you should make developing that a priority. If you do have a robust and well-defined identity, then make sure that extends to your content calendar as well.
If you place logos on photographs, make sure they're consistent in size and color and don't bleed off the edge. Take care to use higher-resolution logos to avoid pixellation – trust us, it's a big turn-off to see a great photo with a less-than-stellar logo slapped on it.
Lastly, make sure your language and messaging stays consistent. Decide on a tone that works with your branding and business, and stick to it. Don't use colloquialisms one day and esoteric tech-speak the next. Consistency is key.
We Know It's Annoying, But…
Social networks sometimes require different sizes in images. Since images and videos rule the world in social media, make sure you're paying attention to what each social network requires. You don't want to jump on LinkedIn only to see that your favorite post of the month features a cut-off photo and a partial logo peeking from the edge. Check out this guide to stay on top of image sizes for each social network.
Don't Forget about Frequency and Reach
You should plan on posting consistently – and we don't mean consistently once a week! Aim for at least 2-3 updates per week on each of your social platforms. Some platforms require more, some require fewer, but all require attention. See what works, and go from there. When building posts, definitely feature your services or products, but don't forget to add in a few posts that tell potential (and current) customers who you are and why you're so awesome.
Also, consider boosting certain posts on different social networks to get in front of more people. Make sure these posts have staying power – you don't want to put $40 behind boosting something for two weeks only for it to be promoting an event in the middle of that two-week period. Choose wisely, and it can make a big difference in your social presence!
Error-Free for You and Me
Last but not least, make sure your content calendar is error-free. Comb it for typos or incorrect information. Ensure your images look crisp and polished. Audit the content – are you speaking to each stage in the Buyer's Journey? Is your messaging consistent? Try making a checklist with these salient points and only considering your content calendar a final product when all those points are fulfilled.
There you have it – six rules of thumb to make your content calendar even more awesome. By incorporating these into your social media strategy, you'll see a difference in your digital presence. For more information on making an inbound strategy work for you, start here.
Here When You Need Us
Have questions? Looking for more expertise? Ready to take the next step?