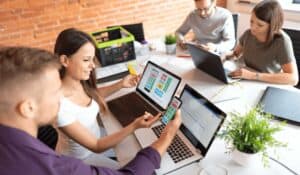 7 Things Every Inbound Marketer Does
The concept of inbound marketing has been around for quite some time, yet a persistent problem is that many people don't understand exactly what it entails. Whether you're in the midst of online marketing or a different type of campaign, it's important that you understand the job of an inbound marketer so that your business doesn't get lost in the fray. This is why we've outlined 7 things that every inbound marketer does.
Create Awesome Original Content
No matter how good your product or service is, marketing will be impossible if you're unable to release some awesome original content. First and foremost, this is where inbound marketing begins. Without content that really pops, you might as well be throwing rocks out your front window trying to get a customer's attention. Making sure you don't need to do that is where an inbound marketer's job begins.
That Create an "I Need That!" Moment
If you can make a person believe that he or she absolutely needs whatever you're trying to sell, then your job is halfway complete. A reputable marketer will produce premium content that not only explains why a person should have your product or service, but why the person's life simply won't be the same from that day forward if they don't have it.
Call-to-Actions That Make Sense
The last thing you want to include in your online marketing is a call-to-action that falls flat. If this happens, then you've lost that customer, at least for the foreseeable future. The job of an inbound marketer is to create language that is not only clear and concise, but also relays a sense of urgency. And the best inbound marketers are quite adept at highlighting a certain area of an advertisement so that your eyes go straight to it.
Landing Pages That Deliver
When an inbound marketer sets out to design a business' website, the first thing they'll consider is the look of your landing pages. They'll figure out the best way to deliver your message and get people hooked on your product or service. A good inbound marketer also knows the importance of creating landing pages that stand out on their own while retaining the overall theme of the site.
Clear Understanding of Buyer Personas
Skilled inbound marketers understand that is in imperative to recognize the various personas of each business' potential buyers. The type of person who purchases spa reservations, for instance, may not be the same person who buys the latest and greatest video games released onto the market. Or perhaps they are the same person. It's the marketer's job to identify those personas and use them to your company's advantage.
Content That Address the Top, Middle and Bottom of the Sales Funnel
The sales funnel is a great way to illustrate the process of starting with nothing more than a product plus a few marketing skills and working your way up (or down, as the case may be) to arrive at a point where customers are being brought into your business. The trick is that no part of the sales funnel can be ignored. An inbound marketer knows that you can't simply cheat by attempting to jump from the top of the funnel down to the bottom, which he or she will avoid by creating content that addresses each level of the funnel.
Reporting and Analysis, then Start Working to Improve
A successful inbound marketer is always looking for ways to improve their techniques and, in turn, your profit margin. This is done by reporting and analysis of any given marketing campaign, i.e. how effectively the campaign manifested leads. Once ample information has been gathered, improvements can be made, which will be utilized in the next campaign.As you can see, inbound marketers don't simply throw out various ideas and campaigns, and then hope that something sticks. They approach each business and campaign in a very specific fashion, one that's designed to maximize a business' potential and profit margins.
Here When You Need Us
Have questions? Looking for more expertise? Ready to take the next step?