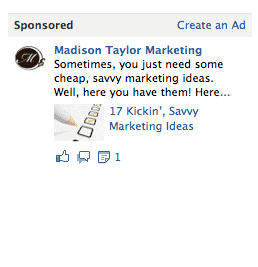 8 (Okay, 9) Tips For You To Rock Facebook Ads
Social media has fast become one of the best ways to interact with your super fans, but it is also a great way to gain new ones. Today you need to not only tell people that you are there, why you are awesome, and how you can help them but also earn their trust and business. To get the ball rolling, attracting people to your Facebook business page is the first step.
Facebook advertising works very similar to Google Adwords in that you create the ad then pay per click. One advantage to Facebook advertising is that you can get REALLY targeted. So once you know who you want to talk to you can reach out just to them and not worry about the people who don't fit. It also allows you to push your ads to potential customers instead of waiting for people to search for you. You are creating the "Zero Moment of Truth".
To help you through that first step of letting peeps know you're out there, we have compiled  nine tips on how to construct an awesome Facebook ad campaign.
Sponsor A Story – These types of ads get much more attention than traditional ads because it's friends who are recommending it. We trust the people we know, so we trust their opinion on things, at least to the extent of checking it out.
Make It Snappy – Be direct, straightforward and short. You have about three seconds to connect, so no convoluted ads will fly.
Start Broad – When selecting the demographic you want to go after, start broad then after you can see where you are getting the most action get more targeted.
Do A Promo – Promotions, contests and polls always seem to pull better because they grab attention. We all love BOGO. There is just really no way around it.
Find Common Ground – "Like ___________, then like us" or "Like _______________, make it official".  Being funny also breaks the ice really easily. People love to laugh, so make it a good one.
Keep It In Facebook – Unless you are promoting a product on your website in your ad, you better point the ad to your Facebook page. Pulling them from Facebook will only irritate people and chances are, you'll get traffic but no conversions.
Test 'Em – Don't make the mistake of only running one ad. Do at least three, preferably five. Then once you know which one is rocking it, focus your dollars on the ones that are pulling the best.
Switch It Up – Don't rely on one ad for too long because it will start to blend in to the background. Change it up, even if it is just with the pic.
Make It Pop – People are visual beings, and the way to catch someone's eye and attention is with a great image. Tie the pic to your ad, use something colorful (preferably not blue because it will blend in), and test different options to see what speaks to your target market.
BONUS. Get Re-Engages – If you have a large fan base but your interaction is low, then run an ad just to your fans about a spring promotion, a new product, an event, etc. to get them to remember who you are and why they liked you in the first place.
Here When You Need Us
Have questions? Looking for more expertise? Ready to take the next step?