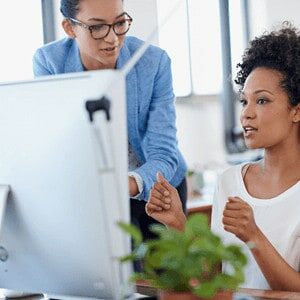 Effective Website Design Is The Difference
"Let's check out their website!"
Whenever someone hears the name of a company they're not familiar with, the above exclamation – or a variation, of course – is their initial reaction. Today, it's no longer a question of IF you have a website but instead what that website looks like and consists of. The better your website is designed, the more effective it will be in engaging with your intended audience and turning them into paying customers.
What are the best techniques for website design that will ensure its effectiveness? We could talk about that for hours, but let's start with a few rules that you should be following right now:
Simple Site Navigation
When someone visits your site for the first time or even for the tenth time, you want to ensure they know how to get where they want to go. The general rule of thumb is that it shouldn't take more than three clicks for a user to find what they're looking for. If users have to click through page after page, they may lose interest altogether and jump off the site. So, what's the solution? Test. Your. Site. Ask your friends, ask your family, and do it yourself. Go on a treasure hunt for specific information, and keep track of your clicks and how long it takes you to reach that spot. If adjustments are necessary, make them right away.
Site Design Matters
While individual users may have differences in opinion about site design and what they find visually appealing, if you commit to designing a website with a crisp, clean appearance, you'll stand a higher chance of appealing to more people. On the other hand, committing to a flashy, involved site may attract a more specific clientele, and that clientele might be exactly what you're searching for. Whichever you choose will likely come down to your specific industry and the types of customers you generally see purchasing the kinds of products and services you offer.
The Mobile Experience Is Where It's At
We've said it before on this site and we'll say it again – people are visiting your site on their mobile devices in record numbers. This means that your website must function properly on mobile devices. Once you've locked down your website's design, you need to make sure that its functionality stays intact on phones. If it doesn't, then you need to make some tweaks to it. To help you out, Google has a great tool.
Make Your CTAs Attractive
Designing your website to be functional and attractive is quite a feat, but you won't get too far without calls-to-action that allow your visitors to take the next step in doing business with you. Calls-to-action could include directing them to your "contact us" page, giving them the opportunity to sign up for your newsletter, or taking them directly to a page where they can order your product or service. Make sure your CTAs are attractive, but avoid making them too flashy or inserting one every few paragraphs.
Madison Taylor Marketing strives to be a one-stop-shop for marketing, website design, content creation, and more. We excel at developing a marketing strategy where clients get to see real results in terms of brand awareness, social engagement, and exposure. If you're ready to take your business to the next level, reach out to our experts and we'll get you started.
Here When You Need Us
Have questions? Looking for more expertise? Ready to take the next step?