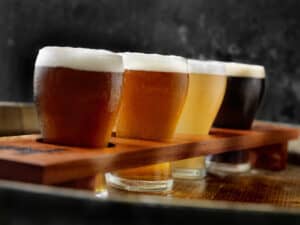 Surprising Brewery Marketing Statistics
In 2015, the US beer market broke a 142-year-old record for the number of craft breweries running across the country, and the numbers just keep going up. While popularity is a good thing, saturation isn't. It's not enough to just be a microbrewery any more — you have to stand out. In this post, we'll talk about the state of the beer industry today and how to make the most of your marketing dollars.
Let's Talk About Definitions
First, there are the big guys, the national breweries. They're the ones in every liquor store in the country. According to the Brewer's Association, a national brewery is one that produces over six million barrels of beer a year. There are 78 of these across the country.
The next level down are the "regional" breweries, producing between 15,000 and six million barrels a year. There are 216 of these, including big names like New Belgium and Sam Adams, brands that can technically claim to be "craft" breweries but are often met with skepticism on that front.
Microbreweries produce less than 15,000 barrels a year, and sell 75% of their beer off-site. The country has seen an explosion in these breweries over the last few decades. There are currently over 4100 microbreweries running in the US, with 222 in Colorado alone.
Brewpubs are defined by selling more than 25% of their beer on-site, either through take-out sales or tasting rooms and restaurants. Their numbers are also blossoming, with almost 2400 currently in business.
So Who's Drinking All This Beer?
Obviously, definitions of "craft beer drinker" are in the eye of the beholder, and will vary depending on who you ask. The Brewer's Association took a broad view and surveyed what percentage of the of-age American public drinks craft beer "several times a year" or more. According to their results, that number is roughly 40%.
It's going up, too. The number of craft beer drinkers is rising by 1-2% per year, slightly faster than the increase in total drinking-age adults.
Unsurprisingly, the numbers of more frequent drinkers are lower. When asked if they had had craft beer "in the last month," only 7.3% responded in the affirmative.
How Are Millennials Drinking Craft Beer?
Millennials, those born between the mid-80s and the early 2000s, comprise about 25% of the population. They have huge buying power, and they're not fans of traditional advertising. So what are they looking for?
However the dictionary wants to define it, millennials define craft brewing as small, independent, high-quality, and local. They place a strong focus on variety, consistent availability of their favorite beers, more flavor options and seasonal offerings, draught beers over canned or bottled ones, and beers that complement foods. They're more likely than older drinkers to go out for beer rather than drinking at home, and more likely to make it a social event with friends.
Millennials also like to connect digitally with their friends and with companies — 34% of consumers responded positively to the statement "When a brand uses social media, I like that brand more."
Recommendations from friends and family are their top deciding factor, and 62% say that if a brand engages with them on social media, they're more likely to become loyal customers. These days, those recommendations are easier than ever to come by apps like Untappd offer recommendations, suggestions, and achievements for exploring new beers.
Due to lower employment, reduced income, and student loans, millennials generally don't have a lot of disposable income. They view craft beer as an affordable luxury, and as such they're looking for value over just low prices.
What About Non-Millennials?
Millennials might get all the attention, but Boomers and Gen-Xers are 55% of the craft beer market. They're more focused on price than value, and more likely to take beer home than drink it at a brewery or brewpub.
They're also slightly more brand-loyal than millennials. Where 75% of the younger generation said that they sometimes purchase beer that they've never heard of, only 68% of Boomers and Gen-Xers said the same.
Let's Talk About The Money
Most industries are top-heavy, with a few big companies dominating while the smaller ones try to thrive in their shadow. Ad budgets for the beer market are about as top-heavy as they come.
There are just over 8,000 beer makers in the U.S right now, spending around $1.6 billion in advertising every year. Of that $1.6 billion, 93 cents of every dollar is spent by the top five companies.
No one can compete with those numbers, and no microbrewery is going to out-advertise Miller-Coors or Anheuser-Busch. So what's a small beer company to do?
The Stone Brewing Way
Stone Brewing was launched in 1996, and has now grown to a $100 million company. They're the 8th largest craft brewer in the country by sales volume — bigger than household names like Odell and Deschutes — and they did it without spending a dime on advertising. How?
Show some attitude.When Stone launched over 20 years ago, lots of people didn't like the taste of their beer. Rather than whipping up some uncontroversial pilsner or lager to appease the masses, Stone steered into the skid. They named their beer "Arrogant Bastard," complete with cocky-looking devil artwork, and told customers on the label, "This is an aggressive beer. You probably won't like it."
Not only did that move foster powerful loyalty among those who did like the beer, but it was threw down a challenge for new customers — are you worthy of being in our club? Greg Koch, one of Stone's co-founders, compared them to heavy metal music: "Metallica doesn't care if you don't like Metallica."
Pick a fight.If you want to stand out among the tens of thousands of beer varieties on the market, you have to make it clear that you're not like them. Stone was controversial from the start, making fun of the lack of taste they saw in most consumers and selling shirts that read, "Fizzy yellow beer is for wussies."
"I'm picking a fight with mediocrity," said Koch. "I'm picking a fight with the idea that beer is nothing more than the industrialized stuff of the TV commercials." By separating the entire craft beer industry's image from the bland beer of the big companies, Stone elevated its own image and street cred alongside it.
Stand out.When Stone launched, it was sold in 22-oz bottles — commonly referred to as "bombers" — instead of the usual six-pack of 12-oz cans. This had several effects. First, the single bottle was good for first-time buyers who might not want to commit to six bottles of a new brew. The size fit in with the challenge issued by Arrogant Bastard's messaging — can you handle a beer this big? And the larger bottles allowed Stone to sell them as a premium product. In the fledgling brewery game, the higher margins were incredibly helpful in keeping Stone afloat.
A rising tide lifts all ships. Koch realized that his main competition wasn't fellow microbrewers — it was the big guys. Stone partnered with several other San Diego microbrewers to create the San Diego Brewer's Guild, which now boasts over 120 members. They carry each other's beers in their taprooms, partner on events together, and raise awareness of the burgeoning craft beer selection in southern California.
Marketing On A Budget — Or No Budget
If you're a small fish in a big pond, like Stone was, you have to get creative. You'll have to get to know your customers and find your niche. Partner with local events and community organizations. You might even have to give away your product for a while to get the word out.
Being clever and unique on a small budget isn't easy. But once you understand that you can't compete with the big names on dollars alone, you can make a tiny budget go a long way.
Here When You Need Us
Have questions? Looking for more expertise? Ready to take the next step?