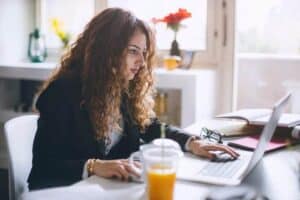 Bring Humanity in to Your B2B Marketing
After years of working with marketing professionals, we've noticed that those in the B2B sector often — and rather unfairly — categorize their business clients as "cold", "calculating", and "dispassionate." Ultimately, this makes for some very boring and robotic marketing campaigns.
Sure, business professionals are inclined to make decisions that will benefit their organizations as a whole, and yes, they have to think about specific attributes like ROI, production functionality, total cost of ownership, and integration capabilities, but that doesn't mean that business purchases don't also touch buyers at a very personal level. Unfortunately, unless you're looking at your B2B clients from this type of standpoint, you're missing out on major opportunities to connect with prospective clients and build excitement for and loyalty to your brand. I
It's time to stop being so damn professional with your clients and add a little humanity to your marketing campaigns! This requires a delicate balance of appealing both to the business interests and unique personalities of your buyers. With the right strategy and a little practice, though, we're confident that you can do it. Here's how:
Discuss Personal Benefits
Yes, a business client will always have questions about how much good a product can do for the company as a whole (he or she is, after all, putting their neck out in order to convince the business that they've found the best solution), but the client will be much more excited about finding and presenting a solution that will improve his or her life on a personal level. Make sure that your marketing is directed at what individual buyer personas can expect to gain from what you have to offer.
Tell Stories
Statistics, facts, and figures definitely have their place in the B2B world, but you can't rely on these when attempting to forge emotional connections to products and services. Telling stories will create a deeply personal experience that will appeal to your client's senses and inspire them to take action.
Be a Lovable Employer
Amazing customer experiences begin with your own company's employees. Happy employees will be willing to go the extra mile to cater to client needs and desires. It's important, then, that you work to improve your business from the inside out. Your B2B clients will notice and respect your efforts to create a nurturing work environment.
Create Custom User Experiences
Marketing automation software is great for B2B interactions. Not only does it allow you to customize a user's experience with your marketing materials, but it also makes their lives easier by introducing them to the information that interests them most and by automatically populating form fields.
Emphasize Integrity
What really sets you apart from your competitors? Even if your products or services are relatively similar, business clients will be much more willing to throw their money and trust at a company that emphasizes the importance of integrity in all of its affairs. Be a business that you would feel comfortable working with.
Get Involved with Your Community
Business clients have a deep respect for companies that stand up for causes and are actively involved in their communities. Giving back to others — whether giving of your time or money — can go a long way in promoting your brand and establishing that sense of integrity that you're striving for, as well as developing and nurturing client trust.
Remember — even when you're dealing with businesses, you're dealing with people. No one wants to do business with a robot, so it's really important that you create a deeply personal experience for your B2B clients.
Here When You Need Us
Have questions? Looking for more expertise? Ready to take the next step?