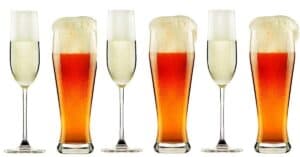 Champagne Taste on a Beer Budget
In my day-to-day meetings with prospective clients, I have run into every size, shape, and vertical of business out there. One of the over-arching trends from all of them is ROI, which is after all a no-brainer. We all want our investments to turn dividends. And, we are all bargain hunters at heart. However, there are some things you can cheap out on and others you can't. And sometimes you just have to drink cheap beer to get the party started. Here's my advice on where to spend your marketing dollars on either budget.
The Champagne Budget

Solidify Your Brand 
Establishing your brand is one of the first things you do as a business. The next is the solidifying of the brand and expanding it. If you think of any of your beloved brands, they started with a foundation and then expanded on it. By putting some dollars into your brand and overall exposure you're setting yourself up for success with other campaigns. That doesn't mean you spend a ton or don't track the success, but brand recognition is a real thing. Just ask Apple.

The Website
Whether you're ready to move up in the world of websites from that original beer budget or are ready to invest in a fabulous one from the start, the website is one area where your money can go the furthest. Having a beautifully designed, functional website that hits all of Google's sweet spots and brings your prospects through the sales funnel or buyers' journey is the Dom of champagne.
Develop a Cohesive Marketing Plan 
When you're building a business and on that shoe-string beer budget, you work with what you have and marketing is done when there's budget and a need. Those plans are often looking a quarter in advance at most. Once you have a budget, take the time to develope a full-blown marketing plan. Not the ones used in a business plan, but one that makes sense in guiding your marketing initiatives this month, in 6 months, in a year, in five years – you get the idea. It should be just as useful now in the day-to-day initiatives as it is for setting the path for the future. It should also align perfectly with the overall business strategy and objectives as well as sales, operations, customer service, fulfillment, etc. By doing this you're increasing overall efficiency, impact, and ROI.
Establish Consistency
One of the biggest peices of advice I can give is to stay consistent. It's tempting to let marketing dip because things are busy or sales are up, but the more consistent you are the higher your ROI is. Having a consistent marketing budget and consistent initiatives, like Inbound Marketing, is really the key to continued success.
The Beer Budget

Define Your Personas 
Sit down and establish who your buyer personas are. It's really easy to say 'I'll work with ANYONE' when your budget is barely covering beer. However, that doesn't guide your business or marketing initiatives. By having established, well-thought-out personas you're providing the strategy that will help your marketing be feirce and on point.
Rock Social Media  
Social media is free. And free is good. Even if you do social media advertising, it's still super cheap and the ROI is phenomenal. So your job is to know the channels where you'll have the biggest impact and rock it. Not comfortable with Facebook? Learn it. Think an intern or your neighbor's daughter can do it because she 'understands Twitter'? Nope. Get some help where you can, but take ownership of your social media strategy until you're able to put some more funds into it. That's when you'll gain the biggest wins.
Think Outside of the Box  
There are tons of unique and inexpensive marketing ideas out on the internet. Go ahead and do a search.
We've even written several on the topic.
Just because you're not running a $50,000 ad doesn't mean that you can't achieve great success. You just need to be clever and work on some organic marketing ideas. For example, if you're a dance studio and are looking to grow you could do a flash mob with your students at a farmers market in your target area. If you're a business consultant, buy the guy behind you in Starbucks drive-through driving the Audi his coffee and ask the barista to hand him your card that happens to have a quick tip on it. Networking is a tried and true way to build relationships and get your brand out in the community. Whatever you do, keep tabs on it to see if it works or not. If it does, how can you expand on it?
Here When You Need Us
Have questions? Looking for more expertise? Ready to take the next step?