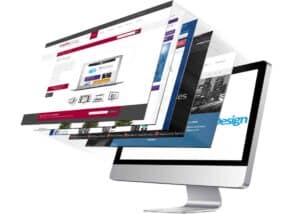 Changes to Make to Your Website in 2016
A website acts as your company's conduit to success. When a customer visits your website — no matter how they get there — they're going to be pretty quick to decide whether or not you're a company they want to do business with.
As we head further into 2016, it's time that you take a good, hard look at your site and determine what works and what doesn't. By tweaking it here and there, and even making a big change or two, you can draw more customers in and make sure they remain interested in what you have to offer.
So how do you get started? That's the easy part. Below, you'll find a few quick tips to improve your website this year, and we'll be back with more later in the week.
Take It Mobile
If your site isn't optimized for on-the-go use, you're making a huge mistake. Millions of people use their phones for the internet every day. They have no patience for websites that don't look good on their phones, and rightfully so. This is a rookie mistake, and you'd be shocked at how many companies haven't optimized their websites. We've even seen some of our competing marketing sites that can't be accessed effectively on a mobile phone. That's just insanity right there!
Provide Great Content
If you don't already have a blog on your website, put it on your 2016 to-do list to get one. Blogs may have started out as an outlet for individuals to talk about their family and pets, but today, blogs are utilized by companies to draw in more customers by providing a steady stream of content. The important thing here is to provide your own content or get someone to provide it for you. What you don't want to do is to simply use your blog to link to articles written by others. Many customers will see that as lazy and won't see a real value in keeping up with the blog as often.
Make the Site Look Modern
A funny thing happened during all the hoopla surrounding the recent Powerball jackpot that could've sustained a small county — I decided to check out the Powerball website for the winning numbers. Have you ever been on their site? I don't want to say it looks bad — it just looks kinda old. Customers these days like websites to take advantage of all the graphical and navigational possibilities available. People might not care what an individual's website looks, but most definitely do care about a business website's appearance. If it looks cheap or old, they might not trust you to keep up with their needs.
Spruce Up Your Home Page
Every page on your website is important, because you never have any idea which page a particular customer will take a look at. However, the Home Page of your site is where you typically make the first impression. If it doesn't look great, then you may not get a second chance to impress potential customers. As you prepare yourself for a robust 2016, it's time to spruce up the Home Page, whether it's a complete overhaul with a entirely new layout or simply a few changes to quotes, images, or other content.
Change Your Layout
This one can be a little tricky at times, but it's important to at least give it some consideration. Your layout tells a consumer a lot about your company. The better it looks and the easier it is to navigate, the higher chance that a visitor will stick around and find out more about your products or services. Plus, switching out your layout can breathe new life into your site.
Switch Out Your Images
If you're doing things right, your website already has at least an image or two on each page. Unfortunately, even the best images can become stagnant and boring over time. 2016 is the perfect time to take a closer look at each image and decide if they need to be switched out with something new. This one simple change to each page can garner the attention your site justly deserves.
Fix Any Broken Links
The navigation of your website can be a "make-it-or-break-it" situation. If someone visits your website and they can't easily get from one place or another, their frustration may turn into abandonment of your website. This is the perfect time to visit each page and check for any broken links or links that go to incorrect pages.
Make Corrections to Grammar and Spelling
Although many readers will excuse a grammar or spelling mistake here and there, an excessive amount could make them think that if you don't care enough about your site's content, then the attention to detail you show them may be lacking, as well. To avoid this, get a second or even third pair of eyes to proofread each page. This is especially important on key areas like your Home Page and About Us page, but it's best to go through the entire website and check for errors.
Integrate with Social Media
As we've covered here extensively, social media outlets are an important part of your business' success these days. The good news is that it's now quite easy to integrate your website with your various social media accounts. It's usually not advantageous to inundate your visitors with constant reminders on every page, but it's a good idea to supply them with a link for each of your social media accounts on at least one page.
Check Out Your Competition
Okay. We're going to close out this final list of tips with something that isn't really a change, but a suggestion. Now that the new year is in full swing, check out your competition. Take a close look at what seems to work and what doesn't — how they organize their information, the types of images they use, how they handle navigation between their own pages and external links, etc. There's nothing wrong with emulating a few of the things you like — do a good job and your competition will do it with your own site, too.
Your company's website is one of its most important aspects. If it doesn't look right or function responsively, you could find yourself dead in the water before you even get out of the gate (or something like that). The professional folks at Madison Taylor Marketing can help design a website that will fit your business and pull in customers at a faster rate. Contact us today and we'll get you started! And, of course, don't forget to visit our website in a couple of days for even more 2016 tips!
Here When You Need Us
Have questions? Looking for more expertise? Ready to take the next step?