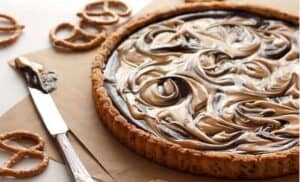 Marketing and Social Media: A Perfect Pair
Social media and content marketing truly are a match made in heaven, and we're not the only ones who think so. In fact, recent studies have shown that as many as 93% of B2B marketers consider social media to be one of their top five most valuable content marking tools.
We like to think of content marketing as a warm, gooey, chocolate chip cookie. People are drawn to the rich aroma of the cookie and hooked from the first bite; they eat it all up and keep coming back for more. If you can make so many people happy with a standard chocolate chip cookie, just imagine how many more you could reach if you added a little peanut butter to the mix! Our mouths are watering just thinking about it…
Just like peanut butter, social media can be your secret, extra-powerful ingredient in your content marketing strategy. With the inviting aromas of both chocolate and peanut butter piquing the interest of your followers, you really can't lose! All you need is the right recipe…
Content Marketing and Social Media: A Recipe for Success
When you're baking peanut butter chocolate chip cookies (yummmm!), it's essential that you follow a good recipe. You can't just make guesses about which ingredients to use or what quantity to mix into your dough. Leaving one item out or adding too much of a specific ingredient could throw off the entire recipe and yield a batch of cookies that nobody wants to eat. The same is true of your content marketing and social media strategy.
So, how can you make sure that your content and social strategy turns out like a perfectly baked cookie? Here are a few helpful tips:
Gather the Right Ingredients
Without the right ingredients, your campaign is doomed from the start. In the case of marketing, your ingredients must be centered around your target audience. This means taking a step back and evaluating who your current and prospective customers are, and what drives them. What type of information do they want to know about your brand? What are their pain points and needs? What knowledge and solutions do you have to offer? What values and causes resonate with them? Which social media platforms do they utilize? Your knowledge of your target audience will serve as the ingredients for your content and social marketing strategy. Prioritize each "ingredient" and make sure to incorporate them into your content accordingly.
Find Balance
When making PB chocolate chip cookies, it's important to find the right balance between the peanut butter and the chocolate chips. Think of your content as your chocolate chips – you've got to have a lot of it in order to give the people what they want and what they need. Social media is your peanut butter – a moderate amount goes a long way. You don't want to post so frequently that people start to tune you out. Know that a lower, consistent volume of social media posts of a high quality will add much more to your "cookie" than an overwhelming number of useless posts.
Taste Test
Before you serve your cookies, you want to make sure that they're actually good! Consider your content and social media posts from the standpoint of a consumer. Would YOU want to read it? Would YOU consider the content to be valuable and interesting? Even after your content has been published, we encourage you to crunch the numbers and utilize analytics tools to make sure that your readers are digging the flavor as much as you are.
Keep It Fresh
A cookie only stays warm and gooey for so long. You need to be prepared to routinely whip up a fresh batch of content and social media posts so that you can appease your audience's appetite.
Need help finding the perfect recipe for your content marketing and social media marketing campaign? Give us a call at Madison Taylor Marketing today and we'll help you whip up something irresistible!
Here When You Need Us
Have questions? Looking for more expertise? Ready to take the next step?