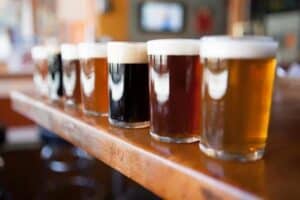 Choosing the Right Agency for Your Brewery
Local breweries are huge right now. It seems like everyone is craving a taste of homegrown flavor and your brewery has what it takes to deliver craft beers that won't disappoint. While you may know that your brewery is awesome, though, it isn't likely to attract enough attention to become your town's favorite hangout unless you properly market your brand.
Teaming up with a marketing agency can take your brewery to the next level so that you can be the huge success that you've always known you could be. Here are a few smart tips for finding a kickass marketing agency that you can trust.
Insist on Passion
If you're passionate about your brews, your marketing agency should be, too. The last thing you want is to hire a marketer who isn't fully prepared to be your #1 fan and cheerleader. Look for a company that is excited about what you do, takes the time to really get to know you and what you stand for as a brand, and who is totally on board with your products. The more passionate and enthusiastic your team is as a whole, the more success you'll enjoy.
Look for Industry Experience
It's always smart to ask your prospective marketing agency about the types of businesses they've worked with in the past. As a local brewery owner, you know that the hospitality industry can be very tricky to navigate and it takes a certain special "finesse" in order to make strong connections with customers. For best results, we urge you to pair up with a marketing company that has successfully joined forces with restaurants, hotels, and other hospitality-based businesses in the past.
Maintain Your Own Voice
Yes, a marketing agency is there to help you work on your brand image and how to project yourself to the world, but that doesn't mean that they should ever try to rob you of your voice. Your brand is unique because of your voice, your ideals, your personality, your opinion, and your objectives. Any marketer that's worthy of your time will understand this and will take the time to work closely with you and your team in order to get a 360-degree look and a comprehensive understanding of who you truly are as a brand. From here, the marketing company might make some small suggestions on how to portray yourself and connect with the community, but they will never try to put words into your mouth or take away your identity.
Evaluate Social Skills
It's 2017 and social media is everything when it comes to modern marketing strategies. Because such a large majority of adult American consumers are spending their time on social networking sites like Facebook, Instagram, and Twitter (just to name a few), your brewery should absolutely have a strong social media presence of its own. In order to achieve the highest level of success from your social media marketing campaign, you'll need to have a skilled and reliable marketer on your team with extensive social media experience. Make sure that your prospective marketing agency is competent with all of the most popular social media channels – especially the platforms that your target audience is most likely to be on.
Keep In Touch
They say that communication is the key to any great relationship and this couldn't be a more accurate statement when it comes to the relationship you have with your marketing agency. Regular communication is critical when working to market your brewery. As such, it's mission-critical that you partner with a marketing agency that will keep in touch with you on a regular basis. It should always be easy for you to communicate your ideas and concerns to your marketer.
Share your incredible craft brews with the world by kicking your marketing strategy into high gear. The team at Madison Taylor Marketing has extensive experience in the hospitality business and is ready to help you get your brewery's name out there. Contact us right now and we get started today.
Here When You Need Us
Have questions? Looking for more expertise? Ready to take the next step?