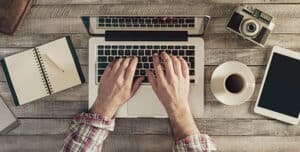 Community Management Series You Should Be Reading (Part Two)
Who doesn't love free bonus content, are we right?
If you've been keeping up with our three-part series on creating excellent marketing content, you've learned a lot about how to target your audience, cater to their needs, and create an editorial calendar. Even with all of this vital information, though, you may still find yourself struggling to come up with relevant content that is also fun and practical for your readers. But what we've realized with all this writing, inspiration, and obvious know-how is that there's even more information to disseminate — the final piece of the puzzle, if you will.
It involves familiarizing yourself with the techniques that marketing pros use to inspire them to develop fresh, exciting content week after week. These useful tips should get your creative juices flowing, so without further adieu, here you go:
Stay Current with Industry News
Your industry is constantly evolving, and it's important for you to be plugged into any changes and developments in order to provide timely content. It's simple to subscribe to blog feeds, niche publications, newsletters, etc. in order to follow what's going on in your little part of the world. You might even keep an eye on your competitor's blogs or set up Google Alerts for notifications on new content that pertains to non-branded industry keywords.
"Listen" to Social Media Conversations
What's making your target audience "tic" today? Social media offers you the unique advantage of being able to "listen" to a real-time feed of what your customers are talking about, what's trending within your industry, and any specific needs that consumers might have. By staying active on Facebook, Twitter, LinkedIn, etc., you might notice that customers have a lot of questions about a certain product, or how to accomplish a task that your brand could help with. From here, you can create blog posts, videos, or ebooks that address these inquiries.
Breathe New Life Into Existing Content
Did you post a video or write a blog that happened to attract a lot of interest? There's no reason why you shouldn't capitalize on your success and repurpose the core of that content by creating something new. Chances are, after all, that your readership will be craving more information on these subject areas. You might consider taking the information shared in a video or podcast and articulating it in written format for a blog. Popular blog posts can be expounded upon and used as the basis for creating a whitepaper or ebook. And, of course, content that is in high-demand might justify the development of a webinar that will enable you to demonstrate your expertise to your clients.
Don't Be Camera Shy
Developing videos doesn't have to involve a complicated production process. In fact, it can be as simple as recording a response to a question that you read from a customer on Twitter, or sharing the coolest things that you saw at trade show or industry event.
Wrap Up the Year with "Best Of" Features
Newspapers and magazines do it, so why shouldn't you? When the year comes to a close, look back to your most popular posts in order to create a "Best of…" ebook compilation for your readers. You might also highlight the best industry products or developments of the year, etc.
While this list of awesome tips for creating unique, engaging content will certainly help you get the ball rolling, it is by no means a comprehensive list of ways to draw inspiration for your marketing campaign. Keeping an open mind and thinking outside of the box (while still staying true to your audience's needs and interests) is the key to content marketing success.
Here When You Need Us
Have questions? Looking for more expertise? Ready to take the next step?