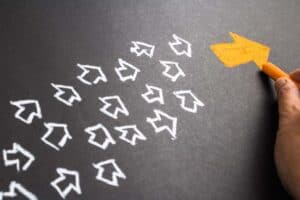 Content Marketing Trends for 2017
You know that content is "king." You know that it's important to put fresh, new content out into the universe on a regular basis. You even maintain a blog for your business! Why, then, aren't you getting any new leads? If this sounds familiar, you're probably feeling really frustrated, confused, and maybe even ready to give up on content marketing altogether. Before you throw in the towel, though, it may be time to do a little self-evaluation.
Blogging became the go-to form of content marketing nearly a decade ago. We know – it's hard to believe that it's been so many years, too! And while blogging is still an awesome way to connect with your consumer audience (after all, WE'RE doing it, and we are incredibly cool!), there's a lot more to content marketing in 2017. Trends come and go, and unless you're staying on top of what's "on fleek" this week, you're not going to see the level of success that you'd like.
Because we know that researching what's trending right now is so time-consuming, we're doing the work for you. Read on to check out some of the major trends that are dominating the content marketing sector right now.
Upcycle Written Content to Video
Video marketing is NOW. A growing number of consumers are clicking on videos in order to learn more about products, services, and industries, as well as to see product demonstrations, discover ingenious "life hacks", or even just to have a laugh. If you want to excite and connect with your audience, you've got to be willing to offer up this type of content. Think you don't have anything to say? Don't know where to begin? Go back to your blog posts and written content. Take the ideas you've already written up, put them to film, and reel in new customers!
Machine Learning
Bots and machines will never replace personalized, custom content, but they can sure help to deliver your message. Through machine learning, you can study what your audience engages with, what it responds to, and what it needs so that you can develop more relevant content. At the same time, it can help ensure that the people who would be most likely to respond to specific types of content are able to access that content in the right place and at the right time. Although the technology hasn't been perfected yet, now is the time to start playing with machine learning so that you can amp up your game in 2017 and beyond.
Ephemeral Content
"Ephemeral" is just a fancy word for "temporary", but it makes us seem a lot smarter, and you'll seem a lot smarter, too, if you start using this type of content. Think: Snapchat. Snapchat and similar platforms have created something of a sensation with disappearing content. The fact that it's only there for a moment makes it feel more valuable to your audience and will generate more excitement.
More, More, More!
While quality should still be a greater priority than quantity, a growing number of SMB's are recognizing the importance of putting a higher volume of relevant content out into the world. Why? The more great content that you're making available to the masses, the more opportunity consumers have to find you and connect with you. The key here is to make sure that you're putting content out on a variety of different platforms in order to increase your audience base.
Planning Ahead
The time for "winging it" with content marketing is OVER. After years, content marketing has proven itself to be a valid and invaluable form of connecting with consumers, and it's time to take it seriously. If you really hope to reach your goals with content marketing, you must create a formal, actionable plan for reaching those goals. This means planning your posts ahead of time and coming up with long-term strategies for your efforts.
Stay ahead of the curve with content marketing in 2017 and beyond. Give the pros at Madison Taylor Marketing a call today!
Here When You Need Us
Have questions? Looking for more expertise? Ready to take the next step?