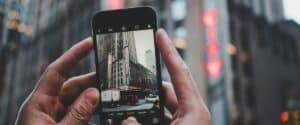 Developing Instagram Content that Should Be Spotlighted
Since its inception nearly eight years ago, Instagram has grown by leaps and bounds, cementing itself right alongside other popular social media platforms like Facebook and Twitter. At last count, it had topped 800 million users, with more than 500 million daily active users.
Businesses can no longer ignore the power of Instagram. The question is, what type of content is best for your company? We've done some digging around and have found some common trends in terms of popular Instagram business accounts. We discovered so much, in fact, that we've split our findings between two separate blog posts. We'll start with the first five below, and we'll be back soon. Enjoy!
Content That Makes Your Profile Shine
Before we get into the types of content that are best for your Instagram posts, let's take a moment to concentrate on your profile. When a user is first encountering you, they will likely go right to your profile – so make sure your company's personality is evident from the bio to your main profile picture to the way the images you've curated look as a cohesive collection. This will get you ahead right from the very beginning.
Content That Shows Creativity
There are a ton of companies and individuals out there who are vying for the attention of your potential followers. These days, many people who frequent social media accounts are interested in creativity expressed by other users. You don't have to do anything too crazy. Simply create posts where you treat Instagram as a fun place to hang out and not simply as a task that you're forced to do. The more creative you are, the more potential customers will flock to your account.
Content That Publishes and Showcases Beautiful Images
Although you can share images on many social media platforms, including Facebook and Twitter, images are king, queen, and court on Instagram. You want to select images that are attractive and pleasing to the eye. Images should be well-lit, balanced, and include actual human beings where applicable – a general rule of thumb is that content that features people promotes more engagement.
Content That Tells a Story
Let's just say that we are currently living in "the era of the story." Consumers are no longer attracted to businesses that come across as bland and uninteresting. They prefer to support companies that have a story to tell, and one that continues to tell interesting stories. In fact, Instagram Stories is a fantastic tool that will allow you to do just that with very little effort. What you want to do is create an interesting narrative that will pique a potential customer's interest. Start small – like a "weekly tips and tricks" or "what we're up to these days" conversation a couple times a week.
Content That Takes You Behind the Scenes
Today's consumers wish to know as much as possible about the companies, products, and services that they support. The best way for your business to give them that opportunity is to take them behind the scenes. Give them an insider's look at how your company operates, the people it employs, and the products and services that you provide. This will make them feel special and endear them to your business. Work meeting? Grabbing a coffee? Goofing off at staff happy hour? Share it!
Content That Provides Exclusivity
People who visit any social media platform are thrilled when they're presented with content that they can't find anywhere else. The great thing about Instagram when it comes to exclusivity is that the basic setup is different from other popular social media platforms, which means that simple duplication often isn't so easy. The best strategy is to design content that is unique to this particular platform instead of parroting what you've already placed on Facebook, Twitter, and other social applications.
Content That Effectively Utilizes Hashtags
When used effectively, hashtags can bring large numbers of followers to specific Instagram posts, which will increase your brand's reach and your company's overall success. Just recently, we wrote a detailed blog post on this subject, where you'll find information pertaining to the proper frequency of hashtags, what types you should use, and other strategic techniques. The tips and tricks that we provide there work perfectly for Instagram, as well as other social media platforms.
Content That Promotes a Good Cause
We are definitely in the era of the "good cause." Many consumers want to support companies that have taken a vested interest in important issues, whether it is breast cancer, pet rescues, or the #MeToo movement. You want to be careful here, however, because if you get too political, that can be a turnoff — or even backfire. So, it's important that you consider your buyer personas and your overall target audience when deciding which causes to promote. If in doubt, play it safe by supporting causes that anyone can get behind.
Content That Stokes Interaction
Visitors to social media platforms are itching to interact with people. In fact, many online visitors get annoyed when they read an article or post that they cannot respond to. Instagram allows people to interact directly with your business, so your role here is easy. All you need to do is develop content that people will become invested in, which will lead them to interact on those posts. When a consumer feels connected through interaction, they are more likely to pay attention to what your company is offering.
Content That Connects Emotionally
Emotion is a powerful tool, especially when it comes to marketing your products and services. Online consumers have a tendency to feel a bit of kinship with businesses and individuals who connect with them on an emotional level. If you can make people feel an emotion through your posts, then you will immediately draw them in. It should also be noted that although making consumers feel happy is great, making them feel a little sad works wonders, too. Just be careful not to ham it up or be too obvious or saccharine, lest this will backfire.
There you have it – 10 content tips for your business's Instagram account that will enhance your reach when attempting to pull in customers. This is only beginning, though. Give a shout out to the professionals at Madison Taylor Marketing and we'll help take your business to the next level.
Here When You Need Us
Have questions? Looking for more expertise? Ready to take the next step?