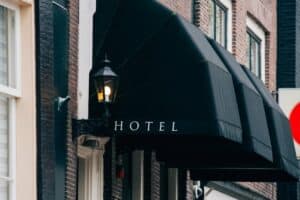 Marketing Tips to Build Your Hotel's Brand
Are you ready to see your hotel grow and thrive as a brand? If so, it's time to embrace the world of social media. Regardless of all of your other marketing efforts (no matter how valuable they may be), you won't be able to enjoy the same level of growth and success if you aren't connecting with your target audience on a deeply personal level. Today's post will offer a primer on how to use social media in order to grow your hotel's brand.
Set Social Goals
You're not going to get anywhere with your marketing campaign if you don't have any clear goals. Before diving into social media head-first, we recommend that you brainstorm ideas of what it is you'd like to achieve by engaging with your audience on social platforms. Are you looking to have actual real-time conversations and provide live customer service? Are you hoping to drive sales and direct bookings? Or are you most interested in connecting with brand influencers and advocates that can help you expand your reach? Knowing what you want to get out of social media will help direct your thinking and keep you focused.
Settle on Your Online Brand Persona
When your current and prospective customers visit your social media sites, who do you want them to be talking to? Today's consumers like to feel as though they're communicating with people and personalities instead of businesses or corporations, so your social media profiles should be centered around a unique "persona" or "voice" that will represent your brand. Do you like to keep things casual? Or are you strictly professional? Figure out how you want to represent yourself to your online community and stick to it. Remember that your persona can be centered not only around your tone of voice but also your values, mission, and visual style.
Choose Your Platforms
You can't be everywhere in the world of social media all at once. Spreading yourself too thin can negate your efforts to expand your brand online. Take some time to sit down and think about who your target audience is and what types of social networking platforms they're most likely to engage with and set up shop in these locations. It's also smart to make sure that you're present on platforms that allow for high-quality photo and video sharing, as these types of content can be great in the travel industry.
Assign a Social Media Manager
If there are too many hands in the cookie jar, things can quickly go awry. When handling your business's social media accounts, you should really only have one set of hands on deck. A professional social media manager will understand all of your hotel's unique goals and interests and will work to maintain your brand's voice and persona across all social media platforms. They will also act as brand ambassadors, customer service reps, and even crisis managers.
Be Visually Stimulating
Your target audience is most likely affected by pictures and videos that inspire them to take a trip, utilize their imagination, get them excited about an upcoming vacation, or otherwise resonate with them on an emotional level. We encourage you to embrace the visual arts and bring them to your social media page in a big way. Not only should you be offering up amazing images, you should also be shooting for user-generated content. Holding photo and video contests is a great way to get more likes and shares, and to drum up new business.
Your hotel's brand is ready to boom and we're ready to help you get there. Give a shout to Madison Taylor Marketing today to learn more about branding via social media.
Here When You Need Us
Have questions? Looking for more expertise? Ready to take the next step?