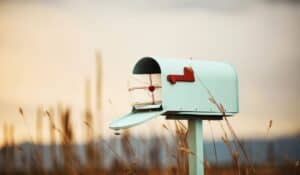 E-mail Marketing is Alive and Well
Let's face it — the world of marketing is not what it used to be. Traditional outbound methods like cold calls, door-to-door sales, print ads, and television/radio marketing are being replaced with inbound tactics that are designed to organically earn consumer attention, spark interest, build trust, and boost sales.
So where does e-mail marketing fit? While e-mail spam has certainly earned this method a bad rap, we urge you to give this tool a second chance. When handled properly, e-mail marketing can improve customer satisfaction and grow your business. This two-part series will break down the steps required to pulling off a successful e-mail marketing campaign.
Keep the Subscription Process Simple
The first step to successful e-mail marketing involves giving your audience the option to sign up for it. Post a sign-up form to your homepage, blog, and social media sites that your customers frequent. Make the forms as simple as possible in order to prevent users from becoming frustrated and cancelling the subscription process.
Set Clear User eExpectations
Customers are far more likely to subscribe (and stay subscribed) to your e-mails if you are upfront with them about what you will be sending, and how often. Be clear and direct when describing what your subscribers will receive, whether it be company updates, daily deals, monthly tips, or birthday gifts. This information will help consumers make an informed decision about joining your e-mail list.
Welcome Your New Subscribers
Start things off strong by sending a welcome e-mail to your new subscribers. This e-mail should remind readers why they're on your list and should create a sense of reassurance that great things are in store for the future. You might also consider sending a special one-time offer to new members as a 'thank you.'
Be True to Your Brand
Your e-mail marketing campaign should be a reflection of your entire brand's look and feel. Users should be able to take one look at your e-mail and know that it came from you. Make sure that newsletter templates include your company's colors and logo. This consistency establishes customer comfort, trust, and loyalty.
Break Up Your Content
Most people receive a lot of e-mail each day, so it's important to create content that can be quickly scanned for information. Start with a teaser at the top of your e-mail that gives readers an idea of what's in store and encourages them to continue scanning the content. Next, proceed to the heart of the message while favoring subheadings and bullet points over large blocks of text. Finish with a "read more" link that will enable subscribers to take the time to soak up more information when they have time.
Group and Segment Your Subscribers
Sometimes it's in your best interest to break your e-mail subscribers up into groups or segments so that you can better cater to their specific needs. For example, a home improvement business may need to create custom content for both homeowners and contractors, or a nonprofit may need to communicate separately with volunteers, donors, and the board of directors. Whatever the case may be, you need a simple way to group your readership. Allow subscribers the option to check a box to join a specific group.
Segmentation, on the other hand, will allow you to target specific readers without assigning them to a group. This might mean sending e-mail campaigns only to the zip codes or subscriber demographics that apply to a certain offer. Both grouping and segmentation make it possible for you to provide readers only with relevant content that will keep them engaged and excited for future newsletters.
Stick to a Schedule
An e-mail newsletter is a commitment. In order to achieve the maximum benefit, you need to create a calendar schedule for creating and sending e-mails to your subscribers. If several months pass without your sending anything, your subscribers will forget about you and will be more likely to ignore, delete, or mark any future correspondence as spam.
Take Time to Edit
We often think of e-mail as a more casual way to communicate, but that doesn't mean you can afford to get lax with your spelling and grammar — especially considering that once your newsletter or special offer has been sent, it goes straight to all of your subscribers' inboxes and cannot be changed or corrected. Make sure to schedule time to review, edit, and revise content before the send date on your calendar. This extra effort will go a long way in ensuring that your business appears professional and reliable.
Test Your E-mails
Different subscribers utilize different devices, all of which display e-mails in their own unique way. It's a good idea to send test e-mails or to make use of a testing program that will reveal how your newsletters look on a variety of screens, both large and small. This will reveal any design flaws before it's too late to change them. In addition to considering the size of the screens that your e-mails will be displayed on, it's wise to make special considerations for mobile devices. Because so many users rely on smartphones and tablets to access e-mail, any content that you send to your subscribers should be mobile-friendly. This will prevent readers from deleting or closing out of the e-mail without reading it.
Don't Get Flagged as Spam
Some businesses get flagged at spam because they don't know any better. Be aware that you should only be sending bulk e-mail to people who specifically requested to be placed on your mailing list. You cannot use e-mail addresses collected for another marketing event unless you made it clear to consumers that giving you their information would automatically subscribe them to your newsletter.
Create Sharable Content
Just like blogs, e-mail marketing content should be engaging, useful, and relevant enough that readers want to share it. Make it easy for subscribers to do this by including web links or social media links within your e-mails.
Watch Your Stats
Choose an e-mail newsletter service that will provide you with reports and stats to guide you in your efforts. This will give you insights with regards to what's working and what's not so that you can make the most efficient use of your time.
Be Personable
No one wants to receive e-mails from a robot, and marketing campaigns are no exception. Use programs that enable you to address your subscribers by name and take a personal tone with readers from the very start. This will put readers at ease and increase the likelihood of their interest in your offers.
Nothing Interesting to Send? Then Don't Send Anything
This is the golden rule of e-mail marketing. Only send e-mail newsletters if you have something to offer to your readers — otherwise you're just wasting your time and theirs.
Here When You Need Us
Have questions? Looking for more expertise? Ready to take the next step?