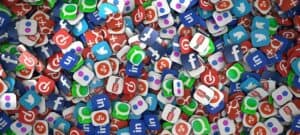 Encourage Engagement on Social Media – Now!
Fans may have "liked" or "followed" your social media accounts, but are they actually interacting with you? Attracting customer interest enough to encourage likes and shares is simple enough, but coming up with ways to drive rich and meaningful comments and dialogue tends to bamboozle most marketers.
With just a little bit of creativity and elbow grease, though, you can get your fans talking to you, and fast! The following seven tips will help to open up a dialogue between you and your readers.
1. Pose Creative Questions
Asking questions is one of the simplest ways to elicit a response from readers, but that doesn't mean that just any question will do the trick. You'll find that if you are too vague or open-ended with your questions, your audience may not bother to provide you with answers. Providing fans with multiple choice options will actually engage them more, increasing the likelihood of participation. This works especially well with photos and infographics. You might, for example, post a picture of four of your restaurant's top dishes and ask readers which they would be most likely to order. Remember to pose questions that will help you to get to know your audience better and that your readers will be excited to answer.
2. Create Unique Contests
Social media contests are pretty common, so it's important to raise the bar and set yourself apart from the crowd if you're hoping for true customer engagement. Be specific with what your contestants will need to do and qualify, and make it something fun and interesting. This will keep users fully engaged, amping up participation while attracting even more readers.
3. Set Up a Q&A
The leading brands have an open line of communication with their customers, and they are constantly communicating via social media. Customers come to social media sites looking for answers to their questions and to feel as though their voices and opinions have been heard. What better way to promote this type of activity than to set up a special Q&A session with your customers?
4. Tag and Create Curated Content
Sharing content and referencing info by trusted sources is nothing new for social media marketing, but are you sure that you're doing it right? In order to get the most out of sharing someone else's posts, it's important that you tag the content creator. This will encourage him or her to visit your page and start a conversation. You might also consider creating an original piece that references the thoughts and ideas of several curators, tagging each one.
5. Encourage User-Generated Content
This is truly one of the best ways to get your readers excited about engaging with you on your social media pages, but it can also be a bit tricky. Here, you must come up with ways to inspire your fans to take control of the content that shows up on your site, thus sparking conversation. Take the Starbucks #WhiteCupContest, for example. Here, thousands of users uploaded photos of their Starbucks designs to the coffee giant's site. Now, that's something to talk about!
6. Pair Up With a Cause
Customers love to rally behind a good cause. By promoting the cause or causes that your brand supports on social media, you'll encourage your readers to share their own stories and start conversations about what they can do to help. As an added bonus, this builds brand trust and loyalty.
7. Stay Current
Posting about current events and live-posting about major extravaganzas like sporting events and awards shows will keep your customers engaged with you and "in the moment."
Here When You Need Us
Have questions? Looking for more expertise? Ready to take the next step?