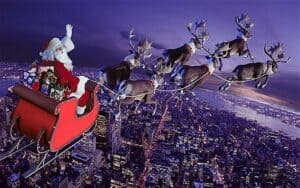 Exchanging Santa's Gifts For Profit
Did your business have a good holiday? Did Santa bring you a bunch of customers and profits, just as you had asked? Or did you find a coal in your stocking because you weren't quite as prepared as you should have been? If the latter is the case, chin up — there's always next year. And wouldn't you know it — next year is right around the corner. So whether you did great over the holiday or only so-so, now's your chance to increase your profits once again.
After Christmas is done and gone, many business owners breathe a sigh of relief. The stresses they endured for the past month or two have finally been alleviated and they can get back to business as usual, at least for a while. That being said, it's not quite time to rest your marketing muscle. While other businesses can look forward to the normality of lower sales in January, you don't have to worry about that because you've taken it upon yourself to grab the bull by the horns and treat the beginning of the new year as a special challenge. Right!?!?
So how can you maintain profits once Santa has left for the North Pole? You can start by offering one or more of these special offers that are designed to help kickstart the new year:
Give Something Away
Everyone loves to get free stuff, no matter how small. There are a couple different ways to go about this. You can offer something absolutely free at the door, maybe to the first set of visitors. This technique will work online as well. Or you can offer the free item to be given out with the purchase of another item. If possible, keep your free item offer going through the entire month of January.
Offer a Deep Discount
Whether you want to offer a deep discount on a handful of items or a certain amount off their receipt once a threshold has been reached is up to you. If you think offering $20 or even $25 off a $50 purchase will be good for your business, do it. Even lower offers will suffice, as long as you're able to really make the discount stand out. Your goal is to attract customers into your store, who could then spend much more than the minimum amount required in order to get the discount.
Bring a Charity into the Mix
This technique was made popular by Toms.com, an online outlet that started off by offering a free pair of shoes to people in need for every pair of shoes that was purchased. Although this may sound insane to some companies, the gamble worked and Toms was almost instantly put on the map. Choose a charity and either donate a physical item or a portion of each sale. Even though it's past what is often considered to be the charitable season, many people are drawn toward goodwill all year round.
Allow Customers to Pay Later
One of the core reasons why January is such a slow month for sales is that many people have stretched their budget to the limit due to the Christmas holiday. If you can offer a way to buy your items now but pay for them later, you can help alleviate their stress and increase their likelihood to make a purchase. If you don't already have a system set up that can handle such an offer, consider using PayPal's Bill Me Later service.
January is known as a slow month in many industries, but it doesn't necessarily have to be that way. By following these tips and using your own creative ideas to grab the attention of potential customers, you can start the year off right — with solid profits!
Here When You Need Us
Have questions? Looking for more expertise? Ready to take the next step?