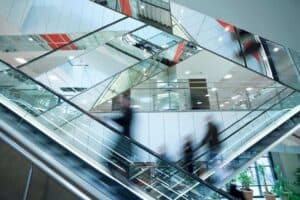 Finding and Keeping New Customers: A How-to Guide
Do you enjoy constantly seeking out new customers through print ads, tv commercials, and cold calls?
No? Good. Your target audience doesn't enjoy it, either. In fact, they hate your outbound marketing tactics so much that they're constantly coming up with new ways to opt out of advertising altogether. Fortunately, there's a way to generate a crazy amount of new, qualified leads without having to force-feed your message to the masses. It's called inbound marketing, and if you haven't tried it out yet, you should.
Inbound marketing is the exact opposite of outbound. Instead of searching out new prospects, your new prospects actually search for you! Pretty awesome, right? Today's customers like to feel in control as they move through the sales funnel, and they take the lead by going online to research brands, products, and services before making any decisions. Instead of just sitting back and hoping that those customers happen to find your brand amongst the thousands of competitors out there, your job as an inbound marketer is to lead a cookie crumb trail for your target audience to follow all the way back to your front door.
So, how do you lure your prospects, reel 'em in, and hook 'em? The following tips are designed to help your prospective customers find you and take a serious interest in your brand.
Create Buyer Personas
The first step to inbound marketing is to really know your prospective customers – inside and out. Take the time to sit down with your team and brainstorm the types of people that would be most interested in your brand's products and services. Categorize them by demographics such as age, sex, occupation, geographic location, etc. Then, consider the unique problems that each persona may face on a daily basis, what they're looking for in terms of a solution, what's most important to them in life, and what interests and drives them… knowing these things is an essential part of attracting your target audience.
Create Content
Once you know who you're trying to reach, you're ready to develop content. Your content will serve two purposes: First, to help your readers find your page and discover you as a brand, and second, to inspire your readers to make a decision in the sales process. Whether you're creating written content in the form of a blog, white paper, or ebook, or are creating visual content like photos, videos, infographics, or a live feed, you should be fully focused on creating a message that addresses your buyer personas' needs and wants.
Answer Questions
Consumers frequently turn to the Internet in search of answers to their questions. Instead of going directly to a brand or a sales/customer service representative, they choose to engage with online platforms that allow users to ask questions. Anyone who is registered with the platform can answer, but if you've got the best answer, yours will be ranked at the top and you'll gain notice and credibility. Think about the types of questions that your target audience might have about the goods or services you sell, search for these questions, and provide expert answers.
Establish a Social Presence
These days, it's pretty rare to find someone who doesn't have some sort of a presence on social media. If you want to stay connected to your target audience and remain relevant, you need to determine the type or types of social media platforms that your buyer personas are using, and create and start maintaining a presence there. Utilize these platforms to start conversations with your current and prospective customers in order to gain insights about what drives them and what they want or expect from you as a brand. Answer questions here, address concerns, and have fun! The more personable your social media accounts are, the more loyal your fanbase will become.
Ready to ditch outbound for inbound? Give the team at Madison Taylor Marketing a call to learn more today, and we'll get you started on your path to success!
Here When You Need Us
Have questions? Looking for more expertise? Ready to take the next step?