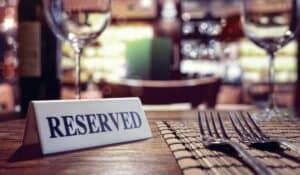 Improving Website Traffic for your Restaurant
It's no secret that websites are great tools for restaurants to attract customers. And if your website is effective, it doesn't just function to give customers a glimpse of your menu or specials you're running – it leads to butts in seats. But, what if your website traffic isn't what it used to be, or perhaps was never really great to begin with?
A lack of website traffic can spell doom for your restaurant, so we've taken the time to compile some of our favorite tips that will get more potential customers to your website, which will, in turn, bring them to your restaurant.
Focus on Social Media
Websites and social media go hand in hand. Don't think to have a social media presence is important? Think again. Even if social media doesn't directly lead people to your restaurant, it can lead people to your website, your phone number, or your menu. It lends a hand and works to get customers through your doors, even when you think it's just sitting there looking pretty. Focus on image-heavy platforms, like Instagram and Facebook, to share pictures of your food and patrons (with their permission). This brand-building work helps customers make connections with your restaurant and keep it top-of-mind when that Friday night "What's for dinner?" question rolls around. Take advantage of all the tools at your disposal on social media: use Facebook to help drum up enthusiasm for your next event, use Instagram to share out customer's photos, and post across accounts when you have exciting news to share, like winning your latest James Beard award.
Start a Blog
We are huge proponents of using blogs on every website, and the reason why shouldn't be too surprising – they work! Blogs provide a constant stream of content, and Google loves content. The more you blog, the more often Google will index your site, and the more website traffic you'll get. By implementing an effective blogging strategy, your business will benefit from metrics like increased time on page, clicks over to your menu, and, ultimately, visits to your restaurant. The best course of action when blogging is to enlist the help of a professional marketing team. They will have the expertise needed to pull it off effectively.
It's All About the User Experience
Perhaps the problem isn't that you're not getting any traffic to your website, but that once people get there, they immediately take off because the site is a bit unattractive or it's difficult to navigate. In today's digital landscape, it's all about the user experience, or UX. If your site isn't easily navigable or looks straight out of 1999, you'll lose visitors – plain and simple. It should be immediately apparent where customers should click to see your menu or your address. Your website is sometimes the first impression a potential customer has of your restaurant, so a site that reflects your brand in a modern, attractive, user-friendly way is essential.
Your restaurant needs a website, but just as importantly, it needs to attract traffic to the site. The professionals at Madison Taylor Marketing can make that happen. Reach out to us today and we'll get you started on a marketing plan that will blow your socks off – not to mention increase your exposure and further your brand.
Here When You Need Us
Have questions? Looking for more expertise? Ready to take the next step?