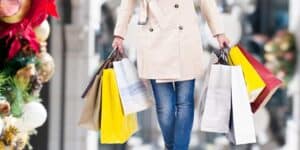 Here's What Happens When You Skip Black Friday
Another year. Another Black Friday.
Did you enjoy an influx of customers? Did your company decide to take advantage of the rush? Or did you sit back and relax while others scrambled around in their post-turkey daze?
Black Friday has become as much of a tradition for millions of shoppers as eating turkey and falling asleep on the couch the night before. Businesses are pretty much expected to join in the sales extravaganza these days. What happens when you either choose not to take part in Black Friday or neglect to make the proper plans? Let's explore that a bit.
You Make Fewer Sales
This one is a no-brainer. As stated above, many customers expect you to have some kind of great deal available to them on Black Friday. Even if you don't open early or don't offer a doorbuster prize, they will expect something. Without any great deals to offer them, there's a good chance that many customers might just pass you by. This obviously means fewer sales, at least on that specific day, though the ramifications can roll over to the coming months. This is probably the biggest reason to make sure you take part in some way, even if it's a small gesture.
You Miss Out on Drawing in New Customers
One great thing that is often left out of the Black Friday "should you or shouldn't you" discussion is that this annual sales event is a perfect time to draw in new customers and "wow" them with your products and service. Everyone knows that providing a great deal will bring customers to your doorstep, and once they're inside – or on your website – you have the opportunity to give them reasons to come back for more Christmas shopping and future needs. If you pass up on this opportunity, you could be hurt for months or years to come.
You Are Seen as a Fuddy Duddy
Right or wrong, the truth is that many consumers want to know that their favorite places to shop are a part of the Black Friday phenomenon. Years ago, people would wake up early to grab the newspaper off their doorstep and immediately rip through ad after ad to help plan their shopping day, often looking at that one fantastic deal that they're willing to line up for. In recent years, the attention has turned to the internet. Websites dedicated to "leaking" Black Friday ads have popped up and if this year is any indication, many stores have been releasing their ads weeks before Black Friday to get an edge over their competition. So, if you don't have any Black Friday deals, you might be seen by some consumers as a fuddy duddy.
You Feel Absolutely No Effect
That's right… you heard us correctly. There's always the possibility that absolutely nothing will happen to your business one way or another if you opt to not participate. Some businesses believe that Black Friday gives customers an unrealistic expectation of getting a great deal every time they walk in your store or visit your site. If you choose to go this route, we suggest that you slap REI's hashtag (#OptOutside) on your social media platforms to show that you are part of the movement that suggests people get outside to hike or otherwise be sociable rather than spend the day fighting tooth and nail for a special deal.
Whether you decide to take part in Black Friday or not, you're going to need a fantastic marketing team to help you through the holidays and beyond. Give us a shout today and we'll help you devise the perfect marketing campaign for your business.
Here When You Need Us
Have questions? Looking for more expertise? Ready to take the next step?