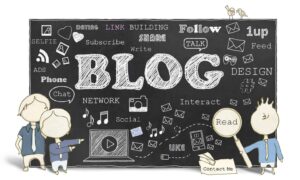 Here's Why Your Business is Better with a Blog
Think your company is too cool for a blog? Ha! The truth is that having a blog makes your company a hell of a lot better. Not convinced? Read on to see for yourself how blogging can give your brand a personality makeover that will allow you to stand out and shine.
You Keep Things Fresh
Some websites are really stuck in the past, and it shows in every way. Within seconds of arriving on such a website, a visitor can tell that it hasn't been updated in years, and their confidence in the currency and validity of information being shared on the site goes out the window. Maintaining a regular blog means that you always have fresh, new content coming in and keeping your website up-to-date. When your business is actively engaged online and stays on top of what's going on within the business itself and the world around it, your customers will be more inclined to trust your credibility and will hang around to investigate your blog and your brand further.
You Know Your Meme
It's hard to believe that the world actually existed before memes, but it did. Today, it's easy to lose track of time just browsing though all of the hilarious and topical memes that show up across the internet. It's really no wonder – after all, people tend to be very visual, and in a fast-paced world, we're all looking for a quick shot of information. Businesses that maintain regular blogs have the opportunity to supplement their written content with on-point memes that will resonate with their target audiences, not only demonstrating their cultural and topical relevance, but also extending their reach. This is especially true when it comes to blogs that are integrated into social media accounts. As your customers scroll through their newsfeeds and come across your memes, they'll be inspired to like and share. When that information is shared, countless new users will be exposed to your brand.
Your Social Media Activity Increases
Social media has completely altered the way in which consumers interact with brands. Instead of picking up the phone or actually *gasp* going to a local place of business and having a *double gasp* face-to-face conversation, people like to pop onto social media and engage with brands through comments, hashtags, tags, and messages. The more active your brand is on its social media account, the more likely it is that your current and prospective customers will try to reach out to you and make that connection.
You Become Friends with Your Audience
Popularity and coolness go hand in hand, don't they? When you've got a blog that is regularly followed, both on and off of social media, you'll find that you have opportunities galore to establish meaningful friendships and relationships with your target audience. You have the opportunity to let your personality shine through and become someone that your readers can relate to, and that will make you so much more awesome.
You Can Rub Elbows with the Rich and Famous
Okay, they may not be all THAT rich or THAT famous, but you can still rub elbows with people who matter in the blogosphere and in the social media universe. Whether it's a celebrity or an industry expert that a lot of people trust and follow, these key influencers can really improve your image, make you appear so much more appealing to your target audience, and drive a significant boost in your sales – especially if you have a blog of your own. By reaching out to key influencers, you can ask them to give your blog a shoutout, or to be a guest blogger for you. When this happens, you'll gain so much notice from a large, new audience that you'll be overwhelmed with high quality leads – not to mention an awesome reputation.
Here When You Need Us
Have questions? Looking for more expertise? Ready to take the next step?