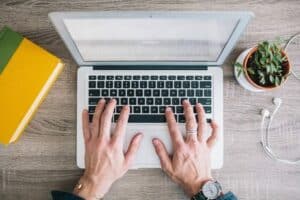 Blogs Are Key to Your Business
About a decade ago, the concept of blogging was still brand new. During this "dark age", web loggers (now referred to as 'bloggers') were generally limited to individuals who were curious about the concept and wanted to share their ideas with the world. It didn't take too long, though, for businesses to get wise to the idea that blogging could be a great way to make connections with individuals and to score some free advertising. In the years that have followed, business blogging has exploded, and it continues to evolve. So how, exactly, has the blogging idea changed the way we conduct business? Read on to learn more.
Social Engagement
Because blogging and social media are so intertwined, businesses have inevitably become much more social in recent years. Blog posts experience the highest share rates and are read much more frequently by a larger audience when they are synced up with a business' social media account. But no one is going to stop by your Facebook or Twitter page just to see if a new blog post is up. This means that businesses are forced to remain actively engaged with social media by posting frequent updates. In other words, blogging encourages and reinforces the act of staying connected with one's consumer audience.
Influential Marketing
The world of blogging and social media has made it very clear that certain "key influencers" have a lot of power when it comes to driving the opinions of a large scale audience. If a celebrity wears a certain brand's t-shirt, if a well-respected reviewer raves about a specific product, or if a hot video blogger gives a brand a shout-out, you can be sure that the brand in question will start trending on Internet searches. Developing social relationships with influential people and getting them to share your posts or even act as a guest blogger could significantly boost your sales and online reach.
Real-Time Consumer Feedback
As soon as you hit "post" and share your blog with the world, your readers can instantly start reading what you have to say and offer their feedback. Good or bad, your audience is able to make comments on your message, stating their opinions, expressing their needs, and asking follow-up questions. This provides your brand with the ability to get inside the minds of your current and prospective customers in order to learn what makes them tick and how better to cater to their needs.
Increased Expectations
With the fact that brands and consumers can engage with one another socially – and in real-time – comes higher expectations of you as a brand. Because you're able to communicate so easily with your customers across your blogging platform and social networks, your audience will expect you to get back to them faster. There's no more dragging your feet and waiting a day or two to respond. He (or she) who gets back to consumers the fastest earns the most business, and those who don't reply will see their clients diverting their business to competitors.
Quality Over Quantity
It used to be that marketers were interested solely in the numbers. How many people can be reached with a blast message? How can we get our brand recognized by everyone? While it's still nice to be recognized by the world, blogging has shifted the focus away from trying to attract the attention of just anyone, and instead strives to attract a focused audience of people who are the most likely to become qualified leads. This means developing content that answers specific questions and addresses specific needs. Instead of a general and broad message, a good blog will have a streamlined focus.
Want to see how blogging can transform your business? Let us help you get started. The friendly professionals at Madison Taylor Marketing are ready to talk about your needs today.
Here When You Need Us
Have questions? Looking for more expertise? Ready to take the next step?