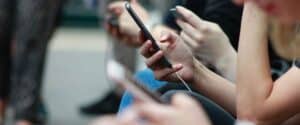 How Do Your Customers Use Social Media?
We don't need to tell you by now that social media is a big deal. You know that, and you've planned your marketing strategy around it. But is that strategy up to date? See, as social media has grown, it has splintered and evolved. Users are spending their time differently, looking for different things, and looking for them in different places. You'll need to keep up with the ever-shifting world of social media, or you'll get left behind. With that in mind, here are some numbers to think about.
Who Are We Talking About?
First, let's define our terms. Baby Boomers (or just Boomers) are 54-72 years old. Generation X (Gen X) are 38-53 years old. Millennials are between 22 and 37 years old. And finally, Generation Z are 21 and under.
How Are They Getting Online?
The first thing to keep in mind is that every generation has multi-device users, and some of them might surprise you. While just five years ago, less than one in five Boomers had a smartphone, now that number has jumped up to 42%. Boomers are also more likely to own tablets — 57% of them own a larger-screen device, compared to only 35% of millennials — and 65% of them own desktops.
Millennials might be less likely to own tablets than their parents, but they're the first generation to be more likely to own a laptop than a desktop — due in part to the fact that they were the first post-internet generation to go to college.
And while 88% of Gen Z says they have access to a desktop of laptop at home, they're not using them nearly as much — 98% of them own a smartphone, and a majority say that their phone is their most important internet device.
Why Does This Matter?
The biggest takeaway is that Boomers have caught up substantially, and now everyone is a multi-screen user. We've emphasized the importance of multiple touchpoints before, and now that applies across the board, from the smartphone-exclusive Gen Z to the surprisingly tablet-focused Boomers. Understand what devices your audience uses, and make sure you're reaching them on each one.
How Do They Use The Internet?
While two-thirds of Boomers use the internet, only 26% say they feel "very confident" using electronics to do what they need to do online. And a similar number — 28% — say they have some kind of disability or health problem like arthritis or bad vision that keep them from using the internet and smartphones.
On the other hand, 97% of millennials say they use the internet, and 28% of them use only smartphones and don't even have internet service in their homes.
Why Does This Matter?
Everyone is using the internet more than they used to, but they're using it in very different ways. If you're writing for older audiences, a company blog that talks about industry news will be more appealing — 61% of Boomers and 46% of Gen X say they follow the news, compared to only 27% of millennials.
And while Gen Z have been using smartphones practically since they were in diapers, a substantial chunk of older internet users have real trouble using smaller devices. Craft your content accordingly.
Which Social Media Channels Do They Use?
Social media is where the greatest fragmentation of the market has occurred in recent years. You can't afford to cast a broad net and hope your audience finds your content —you need to know exactly where they are and how to reach them.
While Facebook is still the reigning champ in terms of total interactions and total users, usage varies widely between age groups. 70% of Baby Boomers with Facebook accounts log in at least once a day, while less than half of teenagers will even log in once a month.
And while Facebook is the most popular channel for sharing across all generations, each one has a favorite — Boomers use Google+ and LinkedIn, Gen X use YouTube and Twitter, and millennials use Tumblr, Instagram, and Pinterest.
Why Does This Matter?
Technically, it's still true that everyone is on Facebook, but not everyone is there actively. As marketers, you'll need to dig deep into the numbers to find out where your audience spends their time — there are simply too many channels out there for guesswork to be effective.
How Are They Spending Their Time?
This might surprise you: young people aren't the ones spending the most time online. That title goes to Generation X, who spend more time on their smartphones, PCs, and tablets than millennials do.
Across generations, a majority of internet users say they're online multiple times a day, and a majority of millennials and Gen Z say they'd rather leave their wallet at home than their smartphone.
The time of day when your target audience is online varies quite a lot too — while Boomers consume most of their content between 5 a.m. and noon, almost half of Generation Z say that they're online "almost constantly."
Why Does This Matter?
Depending on who you're targeting, your opportunities for engaging with your audience will vary. If you want to reach Boomers, your best bet is to share content or contact them in the morning, when they're up earlier than most and browsing to start their day. And while Gen Z might be online all the time, that also means that it'll be easier for your content to be drowned out in the constant stream of browsing they're doing.
This also means that while it might have been true not too long ago that older people don't use the internet as much, you can't assume that any more. Who'd have thought that internet users in their 40s and early 50s were online more than today's 20-somethings? No matter your audience, you can't afford to ignore the time they spend online.
What Kind of Brand Interactions Are They Looking For?
While millennials and Gen Z users are following brands on social media mainly for entertainment value, Gen X and Boomers are much more concerned with contests, promotions, and information. That distinction is important, too — 22% of millennials will unfollow a brand because they find their marketing annoying, and 46% will unfollow if the brand's messaging is too frequent.
Across generations, a majority of internet users will purchase from a brand they follow, and most will follow a brand first, before they purchase.
Interaction is especially important between brands and young people. Millennials are twice as likely to use social media (instead of phone or email) to communicate with a brand, and both millennials and Gen Z are more likely to purchase from a brand if they've had a positive interaction with them online. Those trends follow you offline, as well — 60% of Gen Z prefer to shop at retailers that engage with them online.
Why Does This Matter?
Young people are increasingly turned off by traditional advertising — 69% of Gen Z find advertisements to be disruptive — and they won't hesitate to unfollow your page if they find you annoying. If you want to reach the younger set, you'll need to engage with them personally, consistently, and quickly. While it used to be a rule of thumb that you had 24 hours to respond to messages from consumers, today's youth will give up after just four.
If you're marketing to older generations, on the other hand, the old ways will be more successful. Gen X and Boomers aren't looking for friendship — they're looking for information, contests, coupon codes, and promotions. Base your strategy on whichever generation you're targeting — or set up separate campaigns for each — and watch those engagement numbers rise.
How Are They Buying Things?
Research is king — 85% of Boomers and 90% of millennials say that they research products online before buying. And across generations, 40% of shoppers say they practice "showrooming," or browsing products in-store before buying online for the lowest price they can find.
The biggest differences lie in word-of-mouth. 73% of Gen Z say they'd make a purchase decision based on a social media recommendation. 82% of millennials say that word-of-mouth is a key influencer in their purchase decisions, and 60% look to friends and family. For Boomers, that number is a paltry 12%.
Why Does This Matter?
The buyer's journey is of vital importance — we've talked about it before. Knowing not only what your customers want, but how they arrive at a decision, will help you make contact with them at every step along the way.
For example, a brand without a website is guaranteed to lose out with almost everyone. And since consumers put more stock in word-of-mouth than in messaging directly from brands, you need to prioritize user-generated content (UGC) to gain attention and loyalty. Re-post user reviews, photos, and testimonials to leverage the inherent trust that shoppers have for each other.
What's the Bottom Line?
The bottom line is that each generation of web user is unique, and you'll have to adjust your content, marketing, and strategy to match exactly who you're targeting. It's vital to identify who your customers are, where and how they shop, and how they interact with brands in order to maximize your marketing dollars.
After all, in the inbound marketing methodology, the Delight phase is just as important as the rest. And if you excel at customer satisfaction, your customers will reward you by advocating for you, helping you to succeed in the future.
Here When You Need Us
Have questions? Looking for more expertise? Ready to take the next step?