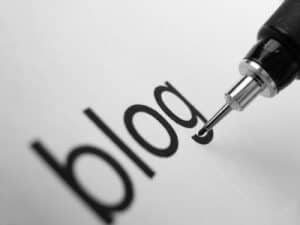 How to Give Your Blog a Kick
Blogging is a great way to accomplish several things at once for your company. 1) It establishes you as someone who knows what you're doing. 2) It creates content that allows people to "sell themselves" on doing business with your company. 3) It starts a conversation with prospects. 4) It creates valuable content for search engines to index, putting you in front of prospective sales.
But, starting that blog or using the one you have, can be a very daunting task. It is usually one of the things pushed to the bottom of the 'To Do' pile, and with good reason – it is hard to get started and keep that momentum. So, here is our advice to give that blog of yours a kick and rock your marketing.
Apply Personality, Liberally 
If you only read one section of this blog post, this is the section that you want to pay attention to. This is the single most important piece of advice that we can offer about blogging – if you only write your blog from an SEO perspective you are really only hurting yourself.
Blogs should not just be used for keyword optimization but a way to interact with your audience – perspective customers. This is where they can get a deeper understanding of who you are, what you stand for, what they can expect from you, if they want to become a customer or if they want to share your posts with their friends and family.
Applying personality is the way to communicate that effectively through your blog. One excellent way to do that is to get multiple people from the company to contribute and bring their own personalities and voice to the project, but of course, make sure that the brand of the company still shines through.
Say Something Worthwhile
Remember the saying "if you don't have anything nice to say, don't say anything at all"? Well, we are going to change that to "if you don't have anything "valuable" to say, skip the blog or social media post". The internet is designed to be a sharing of knowledge and information – simple as that. Use your blog to provide valuable information and your customers will love you for it. Plus, you are building your credibility to potential customers by establishing yourself as a thought leader in your industry and freely sharing your expertise.If you are unsure what people want to hear from you, send out an online survey, ask your sales and customer service reps what conversations they are having regularly or create a poll on Facebook. From there it is up to you to pay attention to cues like traffic to specific posts and topics as well as social media likes, comments and sharing. Use the data that your site should be collecting to guide your content creation and overall marketing strategy. 
Give Them Something to Look At
Studies have shown that people are more likely to click on an article or blog when it has an enticing and eye-catching image associated with it. If you think about it, what grabs your attention? Images. SO DON'T SKIP IT! Be sure to put thought into your images, make sure that they align with your brand and fully optimize each one so that Google gives you points there too. With that, make your blog interactive. Also add links to other articles, videos or images that are relevant to the post.
Post Regularly
The more you post, the more Google likes you (revisit the first two pieces of advice before going post crazy). Sites that blog at least once a week see 60% more traffic than those who don't. Not only that, but if someone hits the site and sees that there hasn't been a post in 8 months it looks a little sketch. So make it a goal to start blogging at least once a week with a deadline of a post every Wednesday. From there, try to work up to 2-3 blogs a week while maintaining a personality, quality content and a great look and interaction.

Here When You Need Us
Have questions? Looking for more expertise? Ready to take the next step?