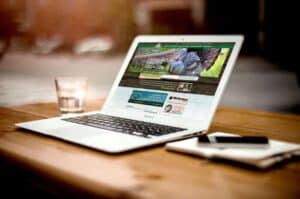 How to Improve Website Engagement
After lots of planning and hard work, your business finally has a shiny, new website…but is anyone really reading it? No, we're not just talking about you, your co-workers, and your oh-so-proud mom; we're referring to actual consumers finding their way to your website and sticking around long enough to be actively engaged. If that's not happening, something is wrong.
Fortunately, improving website engagement isn't an insurmountable task. The following tips will empower you to make simple tweaks to your website and its content in order to be more appealing to your audience and more user-friendly.
Know Your Audience
The first step to improving website engagement is to make sure that your website is being directed at the correct audience. Like we said above, you're not trying to impress your mommy with your pages. Instead, your site and all of its content should be centered around the types of people who are looking for the types of goods and services that you have to offer. Get to know who these groups of people are, and cater to their needs in terms of images, content, and style. This will keep visitors on your site longer and will keep them coming back for more.
Demonstrate Your Value
Your online presence is an excellent way for you to develop a rapport with prospective customers that you haven't yet had the chance to meet. Show your target audience why they should trust you with their business by demonstrating your industry expertise. This is accomplished by offering valuable content, such as helpful blog posts, video tutorials, interesting infographics, webinars, information-rich eBooks, etc. Include your own unique points of view and information that really make your customers think and will "wow" them enough to share the content via social media platforms.
Be An All-In-One Information Source


Follow Wikipedia's lead and make it extremely easy for your audience to learn and expand their knowledge base on your website. Create links within your content on relevant keywords and phrases that will take readers deeper within the site to learn more about ideas, concepts, products, and services. This will keep them interested and engaged for much longer, and will ensure that they never have to navigate away from your page in order to find the information they need.
Keep It Simple
No one wants to take the time to try to figure out how to navigate an overly complicated website. As soon as it starts to take more than a few seconds for a visitor to figure out where to go to find the information they're looking for, they'll leave your page in search of a competitor's. Use simple, clean, intuitive site navigation to direct traffic, and always include an easily visible search bar for user convenience.
Lead by Example
If you want your customers to engage with your website and its content, you need to be engaged, too. For starters, make it as simple as possible for readers to leave comments and feedback on your blogs, videos, and social media posts. When they do leave their comments, it's important that you respond in a timely manner — either giving a shout-out to those who are singing your praises, addressing the concerns of a frustrated customer, or answering user questions. The more you interact with your audience, the more they'll engage with you.
Make Sure You're Mobile-Responsive
With the number of consumers using mobile devices to access websites these days, you can't afford to be running a site that isn't mobile responsive. Regardless of whether a user is connecting to your page via an Android smartphone, iPad, or other such device, he or she will expect the pages to load fast and be easy to read and navigate — or else they'll bounce.
Here When You Need Us
Have questions? Looking for more expertise? Ready to take the next step?