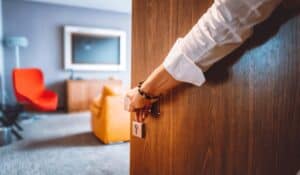 Inbound Marketing for Your Hotel in 2018
Fresh off the excitement of Christmas and New Year's vacations, you're now probably thinking to yourself – how the heck do I keep that momentum going at my hotel? While the question might bring you a bit of anxiety, as a hotel owner or manager it's important to stay laser-focused as you push your marketing efforts throughout all of 2018.
Focus on Your Mobile Strategy
It seems like only a few years ago that seeing a traveler with a cellphone meant that he or she was a hugely successful CEO visiting from some sort of metropolis. Boy, how times have changed! Smartphones have become so prevalent in our culture that seeing someone without a cellphone is a downright anomaly. Knowing this, it's important to note that many travelers use their phones to find hotel accommodations, book their room, and rate the experience. If your website isn't optimized for mobile use, then you're missing a ton of potential business.
Killer Content – It's Not a Choice Anymore
Gone are the days of blogs and social media strictly being used for vanity projects or cultural rants. These days, every business in existence should have a social media and blog presence. Providing content to past and potential guests will give you something that money simply can't buy – relevance. The best strategy is to provide information about local attractions, hotel upgrades, seasonal events, etc. Don't write the content yourself, though – it's best to leave it to the experts, who can help boost your SEO rankings and get you more exposure.
Don't Forget About Ad Blockers
Think of how much today's culture loves social media – that's how much they hateads! Actually, hate isn't a strong enough word… more like loathe. Millions of people across the country use some type of ad blocker to keep advertisements from popping up and invading their space. If you want your hotel to succeed, you must learn to work around such ad blockers. Our suggestion is to take the last tip about blogging and social media, kick it up a notch, and add email marketing in for good measure.
Personalize Your Interactions
You just spent a couple minutes reading about how important technology has been to the hotel industry, and now we're going to head in the opposite direction by telling you that hotel guests also love real, genuine interactions. No one wants to stay at a hotel where they're served by nothing more than automatons. You need to focus on customer service that emphasizes natural interactions with the guests. And if you do turn to technology for a little help in this arena, opt for hosting live chats, which will add some personality to the endeavor.
Add Buttons to Your Site
No matter how much an online visitor adores your hotel's decor and atmosphere, if you make it difficult to book a room, there's a good chance you'll lose their business. To avoid this, you need to add a "book now" button to each page that is easy to see and immediately takes you to the proper screen for reserving a room. It's also a great idea to add buttons in certain locations on the website that will immediately take a visitor to features and amenities of the hotel. The easier you make the entire process, the more likely you'll get a room booking out of it.
Know What's Going on in Your Area
The great thing about social media is that it allows you to stay in touch with your visitors. Potential hotel guests will be intrigued and excited about what's going on in your local area. Create posts – with pictures, if possible – about local events, popular hotspots, community get-togethers, and anything else that you think will make your location seem more attractive.
Improve Your Website's Appearance
If your website looks like it was designed in 1985… it probably was. Seriously, though, a website with an outdated or simply bad appearance will draw the wrong attention to your hotel. There are plenty of do-it-yourself sites available, but most are clunky and don't work as expected. It's best to engage professionals who will create a custom site that blows your socks off. The extra cost will be worth the ton of visitors who visit your site and actually stick around.
Create Awesome Videos
Human beings love watching videos about all sorts of topics and events. It's up to you to join this trend as an advantage for your hotel. Videos serve as a fantastic way to show off the perks you offer to visitors, the friendly staff who will greet and care for them during their stay, and various elements of your hotel's surroundings. Creating videos is a low-cost way to connect with customers and will allow you to focus on the elements that matter both to you and your guests.
Let Your Customers Work for You
Most business owners are already aware of the idea of letting customers market for you by asking them to post photos and whatnot on your site for a contest or event. But, now hotel owners are catching on to the new trend of "selfie stations." These free photo booths include awesome props and visuals that will entice your guests to use them and share the photos they take – complete with your hotel's name or hashtag prominently displayed. This a fun, low-cost way to get your customers to spread the word about how incredible your hotel is.
Utilize Personal Email Offers
Potential guests hate to feel like a number – they want to feel like a real, live person! You can tap into this feeling by crafting email offers that are personalized based on buyer personas and trends. It has been shown time and again that personalized emails get a better, faster response than bland emails with no focus. Give your emails a personal touch and people are much more likely to respond favorably, and they may even forward the email to tell family and friends about you.
The marketing gurus at Madison Taylor Marketing will devise a game plan that will work for you no matter your level of success. Give us a shout by phone or email and we'll get you started right away!
Here When You Need Us
Have questions? Looking for more expertise? Ready to take the next step?