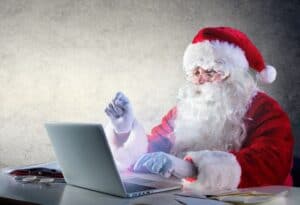 Is it Time for a New Inbound Marketing Strategy?
What's on your Christmas list this year? As a business owner, your primary desire is to continuously improve your company. This, of course, means maintaining a solid marketing strategy. If your marketing strategy isn't working that well for you, you could be hurting. Not to worry, though, because the holidays are almost here, and Santa is on his way! Here's a quick checklist of things to ask yourself to determine if it's time that you asked Santa for a new marketing strategy.
Sign #1: Your Customers Aren't Pre-Sold
A good marketing plan will make sales effortless. Beyond just getting your name out to the masses and providing a quick rundown of your products and services, an intelligent marketing campaign helps your customers find exactly what they want. Imagine customers reaching out to your brand – whether that means walking up to your brick and mortar store or calling you on the phone – all knowing exactly what they want to buy and 100% ready to buy it. All you have to do is close the sale. If your marketing strategy isn't doing that for you, it's time to make a change.
Sign #2: You Hesitate to Give Out Your Web Address
If you feel a sinking feeling in the pit of your stomach each time a potential customer asks for your website address, you've got a problem. Businesses with a successful marketing strategy are the ones who are excited and ready to shout their website from the rooftops. This is because a great marketing campaign includes an excellent website that establishes industry authority and expertise, demonstrates value, makes it easy for customers to find the information they crave and need, and simplifies the process of getting in touch with your brand.
Sign #3: Your Google Search Engine Results Are Lacking
When was the last time you Googled yourself? If you run a search for your business name and it doesn't land you on the first page of results, you're doing something wrong. A solid marketing campaign will include local SEO (search engine optimization) and will help you dominate that first page so that more people are able to connect with your brand.
Sign #4: You're Able to Count Your Social Media Posts on One Hand
What's the point of having a Facebook, Twitter, Instagram, or other social media profile if you hardly ever post to it? You'd actually be better off having no social media presence than a stagnant page that makes you look dated and unpopular. With the majority of adult Americans relying on social media to forge connections with businesses and learn more about products and services, it's imperative that your social media accounts be active, informative, relevant, and helpful. Now is the time to start engaging with your target audience and building a social community.
Sign #5: You've Got Little to No Customer Feedback to Support Your Efforts
When you put forth the effort to connect with your customers, it's important that you receive some positive feedback from individuals who were inspired to reach out to your brand as a result of those efforts. If this has never happened, your marketing campaign is in trouble. It doesn't matter how beautiful you think your website or your posts are if they aren't actually working to inspire your customers to contact your brand or take some sort of action. This is where you need to do some research building buyer personas and studying what your target audience truly wants in order to design a campaign that specifically caters to their needs and desires.
If all signs point to your need to ask Santa for a new marketing campaign this year, you're in luck. Madison Taylor Marketing is close friends with the jolly man in red, and we're here to help you re-strategize and regroup for 2018. Give us a holler to get started today.
Here When You Need Us
Have questions? Looking for more expertise? Ready to take the next step?