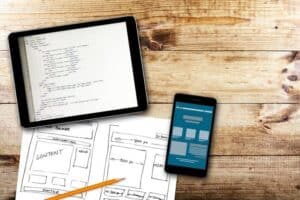 Launching a Website: All You Need to Know to Stand Out
Lesson One: Engage readers. Make a great first impression.
Did you know the majority of prospective customers these days base their initial opinion on a company by the design of their website? Insane, right? Yet we all do it. When you first visit a website, and it looks unattractive and sloppy, do you continue to poke around and eventually purchase what is being offered? Or do you run away as if you're being attacked by an army of wild badgers?
Yeah… that's what we thought.
So, where do you we start? At the beginning, of course. And, for us, that means taking a look at ways that your site can engage readers and make a great first impression:
Make Sure the Site is Focused on Your Primary Goal
Each page of your website should have a goal in mind, whether it's explaining a certain product or service, gathering information through a sign-up form, pushing leads toward a purchase, etc. Every element on a given page should be designed to point prospective customers toward the goal of that particular page. If you can achieve that, then you're already ahead of the game.
Avoid TL;DR Situations
In case you weren't aware, "TL;DR" stands for "too long, didn't read." It's what commenters online say when they can't be bothered to read a large amount of text written by another commenter. In the case of your website, this relates to large blocks of text that visitors to your site simply don't have time for. You should keep text as short and to the point as possible. Focus on only what matters for each page and section.
Use Large Images
The use of large images on a page have a higher likelihood of being noticed. Instead of a solid-colored background, many websites now feature an image that covers the entire screen. Of course, don't forget that this image should relate to your business somehow, so don't just choose a random image that doesn't really mean anything. The exception to this is if you want to temporarily switch out the image for holidays and special events.
Give Your Site a Splash of Color
Bland coloring does not a good website make. We're not saying to go crazy with neons and pastels, but adding color to your site can help grab the attention of your visitors. Just remember that there's a delicate balance with this strategy — if you start using bright reds and yellows on an accounting website, you could push people away. If in doubt, consult the help of an expert.
When Re-Launching, Familiarity is Important
Even the best designed websites for the largest companies in existence come to a point where a re-launch is necessary. whether it's due to emerging technologies, customer preferences, or an aging appearance. This can be a little tricky, because you want to make your site more attractive and more functional without alienating your existing audience. What you want to do is include new design ideas, but include enough previous elements so that it's familiar to those who have used it in the past. If you want a complete face-lift, it may be advisable to do so in stages to avoid a shock to their system.
Lesson Two: Map Out Your Site's Content
Now that we have that out of the way, let's discuss the content on your website. As content creators ourselves, Madison Taylor Marketing knows just how important it is for every bit of content on your site to be as perfect as you can get it, in addition to how future content will be managed. This is known as your content workflow, and it goes a little something like this…
Decide What Content You'd Like to Keep
When you're re-launching an existing website, you'll need to decide what content you'd like to keep from your previous website design. This is often a difficult task, especially if all the content sounds perfectly fine and you can't bear to part with certain statements. There's no right or wrong here, or even a percentage that you should keep — you'll have to go by instinct and maybe a gut feeling on this one.
Decide What Your New Content Will Be
If you're launching a website for the first time, then you'll need to decide on the content you want your entire website to cover — and what content will be included on each page. For a website re-launch, the new content should compliment existing content that you move over from the previous site. Even if you don't write the content yourself, you should at least have a rough idea of what you'd like to see on each page.
Figure Out Who Will Write Your Content
It may come as a surprise to learn that most website content isn't written by the owners of a business. Often, it isn't even written by an employee of the business. That's because website design and content creation has become a specialized skill, and it's best left to the professionals whenever possible. You know your business… they know theirs… and professional writers are great at taking your ideas and whipping up fantastic content. If, however, you decide to tackle content creation in-house, make sure you or whomever you assign to do it gives it their all.
Proofread, Proofread, Proofread.
We've all heard the old adage of "location, location, location" when it comes to the success of many brick-and-mortar businesses. In the world of the internet, where all websites are basically in the same place, the new mantra should be "proofread, proofread, proofread"… at least in regards to content. Spelling errors and incorrect grammar can make a website appear sloppy and unprofessional. Even the best writers can make small mistakes that can get missed in re-reads, so if you can have everything read over by one or two other pairs of eyes, you'll be better off.
To Blog or Not to Blog
We've mentioned several times on this site that blogging is no longer just for individuals to voice their opinions and rant about movies — now, businesses use blogging to advertise products, interact with customers, and provide necessary information. Businesses have the choice of blogging themselves or outsourcing to professional writers. The choice is yours, but keep in mind that consistency is extremely important and a lack of it can cause customers to lose interest very quickly. So, if you don't have the time, don't risk it — hire a professional!
Lesson Three: Optimize Your Pages
Websites aren't like they used to be. In the past, there were limited options, both from the perspective of the web designer and the prospective customer. Although some of the "big boys" were able to pay thousands of dollars for sophisticated sites that offered everything that was available at the time, smaller companies had to make do with whatever options were available to them.
These days, times have changed. While you can still see a difference between the companies that put a lot of money into their website and those who spend a minimal amount, those disparities are changing due to simpler interfaces for the web designers and new options that include adding social media links to your site to provide better exposure.
Now, it's time to learn how to kick some major ass in the website launching department by optimizing it for your visitors. And here are a few quick ways that you can do that:
Treat Each Page as a Primary Entity
You know the old discussion about latchkey kids and red-headed stepchildren? These were children who were treated as lesser members of the family. While our society has come a long way in that regard, many companies treat their websites in a similar way. They give a lot of love to their home page and maybe to a few secondary pages that link from the home page, but for the pages buried deep into the site's navigation? They're often left unattended to… and that is a big mistake.
Although a healthy majority of your site's visitors (read: prospective customers) will visit your home page first, many will be sent to various landing pages due to specific items they're searching for. These "third-rate" pages will then become the first impression that a prospective customer is given about your company. If you haven't treated these pages with as much care and attention as you have the more important pages, you may lose leads very quickly. The fix is simple — treat each page, regardless of content, as if it's the first page a customer will see. Yes, it's really as simple as that.
Add Social Media "Buttons"
Your current website isn't your grandpa's website. It is now considered a hub through which all of your online marketing efforts flow through — and that includes social media sites that you may use, from Facebook and Twitter to LinkedIn and Pinterest. Many businesses don't realize that it's quite simple to add social media buttons on your site that will direct visitors to those platforms. By doing so, you'll optimize the exposure you can receive. Of course, you don't want to be tacky or flashy about it. We suggest that you only place these buttons on your home page and possibly your contact page. And, conversely, you may find that the design of your site doesn't really fit with the addition of such buttons. If in doubt, consult with a professional marketing agency.
Make Sure the Site is Mobile-Friendly
It seems that everyone has a smartphone these days, and many carry around a tablet, as well. This means that it is imperative that your website be optimized for viewing on mobile devices. You've probably realized by now that the current generation of mobile users are fickle. If they visit your site and it's not immediately user-friendly on a mobile device, they won't stick around. Whether your website has already been coded or not, a web developer can make it mobile-responsive, and then you will ensure that all visitors experience a pleasant interface when poking around.
Lesson Four: Directly Engage Your Visitors
So, what's next? As it says above, we're now moving into the realm of directly engaging your visitors. The beauty of today's technology is that the business/consumer relationship doesn't have to be so one-sided as it used to be. Now, you can take steps that will allow you to interact with your visitors, which will strengthen their perception of your brand, and of your company overall.
How is this done, you ask? That's a good question. And we have a few answers of you…
Write a Weekly Blog
Suffice it to say that we here at Madison Taylor Marketing are *huge* fans of implementing a weekly blog. If you want to draw visitors to your website, there's no better way to do so than by providing informative and entertaining content on a regular basis. Just make sure you remember those two words — informative and entertaining — because if your content is too formal (read: boring), your visitors will quickly drop off. People also love to read about current events, so if you can occasionally tie in trending news, then even better!
Interact Through Social Media Platforms
Although social media can be a pain sometimes, as it gives every person a voice whether you want to hear what they have to say or not, there's no denying that it is an integral part of current marketing efforts. Social media platforms like Facebook, Twitter, Instagram, Snapchat, and others — most of which can be linked to on your website — are a great way to engage your visitors by interacting with them and providing them with quick snippets of content that they'll appreciate. And, of course, make sure that your website is accessible from each of the social media platforms you decide to use so that you'll receive even more exposure.
Encourage Interaction
As with most things, communication is key when it comes to fostering a relationship between your business and its customers. If your site has a weekly blog, you can encourage comments by asking a question to your audience or giving them something to think about that might inspire a response. Some sites even foster a comment section where consumers can interact. This may not work for every business, but if you can find a way to incorporate it, you'll be a step ahead.
Improve Your Site's SEO
If you want your website to be seen once it's been launched, then your SEO needs to be up to snuff. An important thing to remember here is that user-generated content is treated more highly than content you've generated yourself. In other words, if you can get your visitors to interact with your blogs or in a comment section, your SEO rankings will definitely see an uptick. This is especially true if you can manage to host a Q&A session. Again, this might not work with every company, but if it fits yours, then you should take advantage of it.
Although the number of ways that people communicate online these days can seem overwhelming, using these platforms to engage your website's visitors is an essential part of any marketing campaign.
Lesson Five: Don't Forget Quality Assurance Prior to Launch
The question is… are you ready to launch that kick-ass website? If you've followed the previous four articles, you're almost there, but one thing is missing that you have to do. That's right… quality assurance. This is certainly not the most exciting part of the launch, but it can save you numerous headaches down the road — not to mention, possible embarrassment.
What exactly should you be checking? Primarily, you should focus on these elements:
Grammar, Spelling, and Punctuation
If you've ever visited a website with numerous mistakes in grammar, spelling, or punctuation, then you know how unprofessional it can look. Even the best writers on the planet can make errors from time to time, so it's best to have two or three sets of eyes go over the entire website, once of which should do so just before it launches. This can save you embarrassment later on.
Navigation
Dead links on any page can, um… kill your website. All you need to do is go through each page of your site and click on every link that's been added. If the URL goes to the proper page, then you're all set. If not, it's important that you tweak it before your website is live.
Web Forms
You wouldn't believe how many web forms get created, but then don't work properly. As you can imagine, this can cost you a lot of great contacts before you realize there's a problem. What you want to do is test the form by filling it out and submitting it. Then, make sure that the information you submitted has done through. Also, check to see that a visitor will receive a message saying that his or her information has been received by the site.
Browser Compatibility
The four most popular internet browsers are Chrome, Internet Explorer, Safari, and Firefox. These are the ones that your website must be compatible with if you hope to reach the largest audience. Luckily, there are software programs like SuperPreview that will check your site for you to ensure that it is compatible with a number of browsers, even the smaller ones.
Images
If your website's images don't load properly, you'll have a heck of a time keeping visitors engaged. The trick here is to ensure that all of your images appear at the right resolution across all available browsers. One method is to use a site like ImageOptim, which will compress and optimize your images so that they load more quickly.
Site Speed
No one likes visiting a website that runs slowly. The good news is that this is easy to check — just go to a site like pingdom.com or WebPageTest.org. These sites allow you to test the loading speed of each page on your site, so that you can see any issues that are impeding its performance.
Thank you for taking the time to stick with us as we explain how anyone can launch a kick-ass website. Launching a new site can sometimes be a daunting endeavor, which is exactly why it's important that you team up with the right partners. The professionals at Madison Taylor Marketing can help you design a website that works for your business, in addition to all your other marketing needs. Give us a call today and we'll get you started on the road to success!
Here When You Need Us
Have questions? Looking for more expertise? Ready to take the next step?