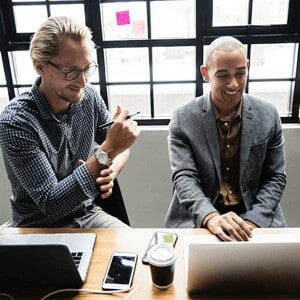 Make Your Brand Sing with These 5 Tips
What's branding? And how is it different from marketing? The simple answer is that your brand is how your customers feel about what you do or sell. Marketing is just how you call attention to it.
So before you can use marketing effectively to drive existing and potential customers toward your company, you need to have a brand identity to point them toward. These tips should help you craft a brand identity that customers will relate to, want to buy from, and keep coming back to.
1. Know Yourself
If branding is all about how your customers feel about you, not what you sell, then it's important to differentiate yourself from the companies that sell the same thing you do.
Think about why you do what you do — and "to turn a profit" doesn't count. If you run a bike shop, are you interested in getting kids interested in cycling? Do you want to raise awareness of the health benefits of cycling?
The basic two questions you should ask yourself are: what makes you different? And why does that matter? It's not enough to be different if that difference isn't relevant to your customers. Crystal Pepsi was different from other colas, but no one really cared.
2. Engage Emotionally
For decades, if not longer, emotional engagement has made the difference between branding and just selling. Harley Davidson — the second-most popular tattoo in the US after "Mom" — has long embodied freedom, independence, and individual expression.
Coca-Cola has cemented itself as the classic American beverage, associated with going to the movies, summer barbecues, picnics, and so on. Pepsi has tried to separate itself from Coke by associating with youth, music, entertainment, and a party lifestyle. Who's more successful is up for debate, but it's undeniable that the two brands "feel" different.
3. Stand for Something
According to a recent survey, over 90% of millennials said they would switch to a brand that was associated with a cause. That cause doesn't have to be grandiose or complicated — no one expects you to solve the world's problems by yourself.
There are simple causes you can align yourself with in small ways to show your customers that you're interested in making a difference. The North Face and Patagonia make jackets from recycled materials. TOMS shoes donate a pair for every pair bought. And lots of companies purchase wind offsets or donate to their local communities.
Your brand doesn't have to make an enormous gesture to attract customers who support your cause, but you should at least make a statement. 
4. Be Social
You probably know by now that you should be on social media. The world is too social and too connected to ignore the internet and the way people use it, and that means having Facebook, Twitter, and probably Instagram presences.
But being social isn't just about posting on those channels — it's about listening. Customers will be listening to what you have to say, but they'll also be talking back. Reviews, complaints, and questions are increasingly online — and public.
Answer questions, acknowledge positive feedback, start conversations with your customers, and, perhaps most importantly, be ready for damage control.
In today's fast-paced world, a negative tweet or Facebook post about your company can go viral in mere hours, and ignoring it will only make it worse. You need to be prepared to engage with negative feedback as well as positive, in a helpful, human way.
5. Be Consistent
You know the saying, "there's no such thing as bad press"? You can throw that one away. There's absolutely such a thing as bad press, and being consistent is the best way to avoid it.
If your brand is irreverent, uses swear words, and tweets sassy comebacks at Twitter followers, you've got more leeway than most. If you're supposed to be family-friendly, one bad tweet or customer interaction can bring your whole reputation down.
Customers will be interacting with you across channels, so it's more important than ever to make sure that those touch points are consistent with your brand and each other.
Being a Brand
It's not enough to just make the best product, offer the best service, or sell at the lowest prices any more. You need to give customers a reason to buy from you, a reason to recommend you, and a reason to keep coming back. 
Branding isn't just a logo, colors, and a catchy name. It's the difference between a forgettable interaction and a customer for life.
Here When You Need Us
Have questions? Looking for more expertise? Ready to take the next step?