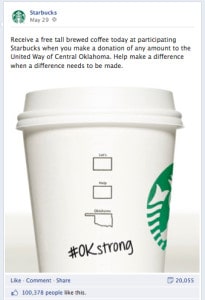 Making Your Disaster Communications Fluid
Whether you are a national company or a local small business, current events affect your business and your customers. Companies that lag in communications not only show their customers that they are not prepared, but it can also come across like you don't care. Companies that have a communications plan outshine their competitors, because it is during those times that people remember who was there and ready.
Let's take for example the tornadoes that ravaged Oklahoma. Starbucks, in their ever brilliant social media communications, not only posted about their sympathy for those affected, but also that they were checking in on their staff to ensure they were okay. Then, they went on to promote on Facebook that customers who made a donation at Starbucks locations would receive a free cup of coffee. What this tells us is 1) Starbucks cares about their customers, 2) Starbucks cares about their staff and know that their customers care about their baristas, and 3) Starbucks is a company that gives back. This causes people to vote with their wallet, which has made Starbucks the mega company they are.
Another example would be the Boston Marathon. The situation and search that ensued caused many businesses to have to shut down. One of our partners, Hubspot, was affected by this. We received an email and social media feeds from Hubspot stating that their employees were working from their homes, were all okay, and that the best way to reach someone was through email or a support ticket via their website. The communication was timely – no need to call in and find out that we couldn't get through, and it was another way Hubspot was able to show that they understand the situation there affected businesses across the country.
When disaster strikes, whether natural or man made, it is best to have a plan in place for communications before they hit. So here are some items to get you started.
Database
Keep your customer information up to date. If you need to reach out to people via email or phone, make sure that your database has everything you need. We have seen so many customers who have been in this situation and find that they are only able to reach a fraction of their customers. Start updating your database now and set standards of continual use and dates to make audits.
Google Alerts
Each and every person in your organization is busy, no matter what your size. So, most likely they learn of breaking news after they leave for the day while they are heading home. One sure fire way of making sure that your company isn't missing anything, is to set up Google Alerts in the area that you operate and having them go to a couple people in the organization who are responsible for bringing highlights up for review.
Communication Strategy
Email, social media and in some cases, calls. What is your form of communication? What is the protocol for establishing a strategy, like the one Starbucks employed? Who is responsible for releasing the communication? Have these items nailed down. Every situation is different, so the strategy will be fluid but having a foundation of how to operate will make things less stressful and ensure a timely release.

Here When You Need Us
Have questions? Looking for more expertise? Ready to take the next step?