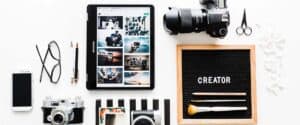 Making Your Marketing Tools Perfect for 2017
Today's consumers don't like to spend a lot of time reading. Numerous studies have shown that reading is generally on the decline in America. Whether it's for pleasure, for educational purposes, or to research new products and services, people just aren't responding to lengthy blocks of text or blog posts that are dense with wordy descriptions.
What's a marketer to do?
Remember that old adage that says, 'A picture's worth a thousand words'? Well, it's true. Using high quality images in your marketing efforts can convey your message without using nearly as many written words. This tactic is so successful that it has been estimated by MDG Advertising that articles featuring images get 94% more views than those without.
Images not only reduce the amount of written text that's required to fill your website pages, blog posts, and social media account updates, they also establish a stronger, clearer message. With the right photo or graphic image, you can introduce and promote a product, elicit strong emotional responses from your audience, and inspire a dramatic increase in sales.
So, what are you waiting for? Because we believe that images are so crucial to your marketing efforts in 2017, highlighting eight foolproof tips for stepping up your image game and creating a picture perfect advertising strategy for the new year.
1. Make Sure Your Content and Images Match
It should go without saying, but you'd be surprised by how many marketers make use of random images when blogging or posting to social media. This is extremely confusing for your audience, as they try to make sense of your use of a photo of a cathedral in Moscow when your content is about your latest company software update. If your readers can't make a direct connection between your photos or graphics and your content, they're going to become frustrated, flabbergasted, and more likely to navigate away.
2. Put an Emphasis on Size
When it comes to images, size matters. Posting a tiny photo that doesn't enlarge past thumbnail size will irritate your readers as they are unable to see what the picture actually represents. Going too big, on the other hand, can cause the image to become stretched or distorted, or can negatively impact resolution to the point where the photo is blurred and difficult to interpret. Finding that "just right" size will make a big difference with regard to the overall impact of your image on your audience.
3. Include Correct Titles and ALT Text
Properly posted images can help boost your search engine rankings. In order to ensure that this is the case for you, you'll need to take the time to make sure that your file is named and that the ALT text is applied in plain English. This is important in helping search engines make decisions about what the image actually represents so that your images can appear in Internet searches. For best results, be clear and descriptive without going overboard with keyword stuffing.
4. Consider Captions
Captions don't directly play a role in search engine rankings, but they can be helpful in establishing a connection between the image and your text, which will keep your readers interested and engaged in your content. As mentioned in our first tip, this can be essential to reducing bounce rates and improving conversion rates.
5. Select Appropriate Formatting
Formatting images can be confusing for a lot of people. After all, you've got options a'plenty, ranging from JPEG to PNG to GIF. Which format should you select for your photos and graphics? As a general rule, JPEG images tend to be more easily compressed, and are the best option for small images of a high quality. PNG is a superb alternative to JPEG, but the smaller the image is, the more likely it is that the file quality will suffer. GIFs are the preferred option for animations.
6. Spend Extra Time on Social Media
Social media audiences are very visually oriented and are drawn to posts that include relevant, interesting, and original images. Those who create posts with high quality images are much more likely to see high click-through rates, more "likes", and definitely more "shares" and "re-tweets." This means that you absolutely cannot afford to skimp on your images when posting updates to your social platforms, or to forget that every image counts. Take a little extra time to ensure that the images you select are formatted properly for social media, and are shared at an appropriate size for optimum user engagement.
7. Create Your Own
Many marketers put a lot of emphasis on creating fresh and unique written content for their social media platforms, but then round things off by sticking a stock photo into the post that has been used a thousand times over on various other business websites. Don't forget that unique, original images are just as valuable as original content! Although the use of stock images is fine for most posts, it is worth your time to take photos of your products, your facilities, your team of employees, your community, and beyond for a more personal tough from time to time. Using these unique images will help your readers identify with your brand on a more personal level, while making sure that your images are always relevant and match up with your content.
8. Follow the Letter of the Law
They say that all press is good press, but that's not necessarily true. The last thing you want your brand name associated with is being dragged into a lawsuit for copyright infringement. It's important to remember that just because an image pops up as available on a Google Image search doesn't actually mean that it's fair game to be used as you wish. People upload images all the time without obtaining the proper licenses or approvals, and re-using or re-posting those images may cause small inconveniences. Generally, you'll simply be asked to remove the images, but it's a good idea to be proactive and make sure that you go through image channels that offer photos and graphics that can legally be used and shared with your audience, or take the steps required to obtain permission before using a specific image. Knowing and adhering to the law could save you a lot of time and grief down the road.
If you're planning on working on your brand's image in 2017, be sure to start with the images you use for marketing purposes. By following our eight tips, you'll enjoy flawless, picture perfect marketing in the new year and beyond. Still have more questions? Feel free to get in touch with the pros at Madison Taylor Marketing today.
Here When You Need Us
Have questions? Looking for more expertise? Ready to take the next step?