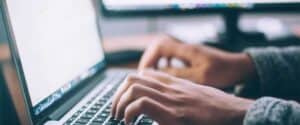 Marketing Brainstorm! Blogging
Love it or hate it, blogging is an essential part of marketing in 2017 and beyond. While there are lots of people (like us!) who naturally enjoy creating engaging blog posts, we understand that many businesses struggle with the concept. After all, blogging can be pretty dang time-consuming, requires a significant commitment of time and energy, and demands a fair amount of promotion. Even so, blogging is extremely advantageous and creates opportunities for a much larger audience to discover and fall in love with your brand.
Part 1: General Tips for Creating and Writing Blogs
In the first part of our series, we're going to introduce some general tips and basic guidelines for establishing and maintaining an amazing blog:
Be Goal-Oriented
How can you properly steer the ship if you don't know where you're going? The most successful business bloggers take the time to set defined goals for their blogs. Figure out who you're writing to and what needs you're attempting to target in order to set key performance metrics that will allow you to evaluate your effectiveness. This is also the time to come up with the right Calls to Action (CTAs) for your readers, and what actions you ultimately want them to take (i.e. download an eBook, register for your newsletter, etc.).
Consider User Experience
Make your blog as user-friendly as possible. Use fonts that are appropriately sized and legible on all devices. Be sure to also invest in responsive web design to ensure that users can easily access your site from desktop computers and mobile devices alike. Make the blog easy to navigate and avoid unnecessary clutter.
Avoid Fluff
Your blog may be the first impression a prospective customer has of your brand – make it count! Filling your blog with fluff makes you appear unprofessional and out-of-touch, not to mention that it will get you into trouble with Google web crawlers. Always focus on providing superior, timely content that provides true value to your readers.
Generate Buyer Personas and Keywords
In order to make sure that you're developing content that resonates with your target audience, you need to know exactly what types of individual personas comprise your target audience. Coming up with unique buyer personas will help you break down your readers' individual needs and pain points, thus enabling you to select appropriate key words around which you can base your content.
Break Up Your Content
Nothing is more off-putting to today's readers than huge blocks or walls of text. Masses of information like this can be very overwhelming and cause visitors to navigate away from your page. Get around these barriers by breaking your content up into bullet points, subsections, or numbered lists.
Use Appropriate Images
Today's consumers are much more likely to read and share information that contains compelling or inspiring images, so be sure to spice up your blog by including relevant, high-quality visuals.
Make Your Voice Be Heard
Your blog provides you with the unique opportunity to make the voice of your brand be heard and to allow your company's one-of-a-kind personality to shine. Make sure that each blog post is a reflection of YOU.
Never Forget the CTA
Don't ever finish up a blog post without seizing the opportunity for a CTA. After demonstrating your knowledge and value to your readers, it's your job to close the deal and compel them to take action. Missing this crucial step can cost you business.
Part 2: Growing Your Blog and Community
Be Consistent
The first key to growing a strong readership is to be consistent with your blogging. If you're only blogging once every month or so, your readers will quickly lose interest and forget to check back with you for more content. Conversely, if you're posting regular updates on subjects that are consistently helpful and engaging, your audience will keep coming back and will tell their friends.
Ask Questions
Growing your audience depends on your ability to build solid relationships with your readers. The easiest way to start establishing trust and a useful dialogue is to use your blog as a platform for posing thought-provoking questions to your target audience. Encourage your readers to respond to these questions in the comments. Be sure to reply to each comment given in order to inspire an ongoing conversation.
Include Social Sharing Buttons
Make it as easy as possible for your readers to spread the word about your blog and to share your helpful or entertaining content with the masses. Including social sharing buttons for popular social media platforms like Facebook, Twitter, and LinkedIn will help expand your reach and attract new readers.
Promote Your Blog on Social Media
It's always a good idea to have your blog linked in with your social media accounts. Each time a new blog is posted, you should be able to include an exciting blurb or tagline included with an embedded link that will appear on your social media timeline. This will make sure that all of your current fans and followers will be updated every time you post new content.
Allow Users to Tweet Specific Information
Maybe your readers don't want to re-tweet your entire blog post, but they want to share a really interesting tidbit of information. Consider including "Click to Tweet" links after your most significant points, riveting statistics, etc. This will inspire a larger number of readers to share your content with friends.
Find Your Sweet Spot
You may have heard that it's best to post blogs at certain times of the day or on certain days of the week. The truth is that the "sweet spot" for posting blogs may vary significantly depending on your industry and target audience. Play around with your postings to figure out when the peak hours are for posting new content so that you can stay in tune with your community.
Listen to Readers
It's always important for you to pay attention to what your readers think and say about the content that you're posting to your blog. Be sure to check out the comments left on your blog page and social media accounts, as well as to follow the "conversations" being had with any hashtags specific to your brand. This will clue you into what your community wants so that you can keep delivering.
Use Google Analytics
Make use of tools like those offered through Google Analytics to see what is (and what is not) resonating with your target audience. Understanding what makes them tick will help you focus your efforts on successfully growing your blog and its community.
After establishing a killer blog and working hard to build up a loyal community of customers and readers, you may think that you can just rest on your laurels. The work of a good blogger never ends, though, and you can't expect to keep coasting by on the same old content month in and month out. Staying motivated and inspired is critical to maintaining a successful blog and having fun with your inbound marketing tactics.
Part 3: Motivation and Inspiration for Blogging
Offer Tutorials
Many readers will come to your blog to learn more about your brand and its products. These consumers will appreciate having the ability to learn how to use your products or to learn more about your services via "how-to" tutorials. You can even create video tutorials that will walk your viewers through the process of trying something new while demonstrating your expertise.
Try a Blog Topic Generator Tool
Sites like HubSpot offer cool tools that will help you co-generate a semi-random blog topic based off of a few keywords that you suggest. This will get your creative juices flowing as you come up with new and interesting blog ideas that are related to your industry.
Write About Cases Studies
Your current and prospective customers want to read stories about how your products or services actually worked to drive real results with other customers. Taking real-life case studies and examples and turning them into a compelling blog post will go a long way in exciting your readers.
Flesh Out General Posts
Go back through your existing blogs and look for posts that covered broad concepts or general ideas. From here, you can break down the posts into more specific topics that can be fleshed out into new content. This will establish you as a strong thought leader and will inspire your readers to look at things from a new, deeper perspective.
Repurpose Your Content
If you've written a great blog post in the past, you can breathe new life into it by presenting the content in a new way. Taking written content and turning it into a humorous or educational video, infographic, etc. will get your readers talking again and will create more backlinks to the original post.
Look at the Competition
Take some time to visit the blogs of your competitors and see what they're writing about. You should never completely "steal" someone else's idea or plagiarize their content, but you can draw some inspiration from the topics that are creating buzz from your competitor's audience.
Interview Experts
Be your customer's "go to" source for the latest and most accurate information on your industry. Consider interviewing industry experts about current affairs within your sector, for advice, or for insight. Turning these interviews into blog posts will keep you and your readers on the cutting edge of your industry.
Invite Guest Bloggers
Reach out to guest bloggers, including key market influencers, in order to bring fresh, new, inspirational content to your blog. This is also a great opportunity for you to expand your reach and attract the interest of new readers.
Re-Blog
It's also a good idea to reach out to industry influencers, experts, and other related bloggers to ask for their permission to re-post or re-blog their content onto your own blog.
There are plenty of ways to keep your content fresh, interesting, exciting, and fun. We hope you've drawn inspiration for creating a solid blog, growing your community, and generating original content. Our expertise doesn't end here, though. Feel free to give a shout to the experts at Madison Taylor Marketing anytime to learn more about maintaining an awesome blog that works for you.
Here When You Need Us
Have questions? Looking for more expertise? Ready to take the next step?