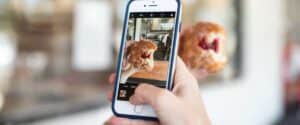 Marketing Brainstorm! Social Media Posts
By now, social media marketing for small and mid-sized businesses is no longer an option – it's a absolute must. At the end of last year, Pew Research Center reported that 78 percent of Internet users and 68 percent of all American adults use Facebook, 32 percent of Internet users and 28 percent of all American adults use Instagram, and 24 percent of Internet users and 21 percent of all American adults use Twitter. Beyond this, even more American consumers are using social media platforms like LinkedIn, Pinterest, and even Snapchat. With numbers like these, you honestly can't afford to snub social media!
That being said, connecting with your target audience doesn't mean that you can simply throw a social media account together and win over the masses. Each of your social media posts needs to be interesting, relevant, useful, and perhaps even entertaining. So, how do you pull that off? We're glad you asked.
Get Readers Pumped About New Products
No matter how great your latest product is, it's not going to sell itself. Make a big deal about your newest product offering on social media! Generate excitement and buzz by dropping hints about the big reveal during the weeks leading up to the product launch. Wow your readers with exclusive first looks at your product and consider offering priority purchases to the first x-number of people who share your post. You'll generate a ton of hype and attract new business.
Share Product "Hacks"
Consumers like to feel as though they're getting the most value out of the products they purchase. Prove to your followers that there's more than one way to use or wear your stuff by posting pictures of your products being used in unique and interesting ways or by creating cool videos that demonstrate unique product usages or "hacks." This kind of shareable content will expand your reach and get your customers talking.
Ask Questions
What better way to get to know what your readers and followers want than to simply ask them? Posting questions to your followers is a great strategy to help increase engagement while getting to know what makes your target audience tick. You can learn more about what your readers' favorite products are, how they like to use them, what they'd like to see more of, etc.
User-Generated Content
Encourage your customers to create posts with a hashtag that's unique to your brand by sharing their awesome content with the world. You can browse these tags and posts and then re-post the user-generated content to your own feed (with user permission, of course). This gives you the opportunity to show your product being used and reviewed by REAL customers while showing your appreciation to those who support your brand.
Flash Sales
Flash sales are HUGE on social media. Everyone loves to score a good deal and when you put a ticking clock on your incredible offer, you're much more likely to draw in the masses. Promoting a flash sale on social media gives you tons of free advertisement and will help attract a large number of new followers to help you grow your business. You might even consider making the sale exclusive to your social media followers in order to quickly build up your fan base.
Climb Into the Director's Chair
Video content is taking the social media marketplace by storm. If a picture is worth a thousand words, a video is worth about a billion! Creating simple, to-the-point, and entertaining videos can quickly capture the attention of your followers and inspire them to share your content with others. Whether a video is thought-provoking, sentimental, or funny, your job is to resonate with your fans as you promote your brand.
Go Behind-the-Scenes
While you're already sitting in the director's chair, you might want to consider also whipping up an informative video that offers your fans a behind-the-scenes look at your business. Show your customers what goes into the process of developing new product ideas or how the products are actually manufactured. What you may take for granted as an everyday task can actually be quite fascinating to your followers. Videos like these also open the door for further engagement by sparking questions and excitement.
Extra! Extra!
Social media is the perfect platform for sharing exciting news developments within your company. Whether you're getting ready to launch a new product, unveiling a new service initiative, or increasing your store's hours, you should be sharing the news with your readers.
Post Relevant Tips and Tricks
People use social media to share helpful information with one another and learn new things, so use your posts to educate your readers and help them out! If you come across an interesting article, blog post, infographic, video, or other type of content that offers tips and ideas that are relevant to your fanbase, pass that information on! Your readers will appreciate it and keep coming back. If they find it particularly useful, they'll further share your post, getting your name out there even more.
Relinquish Control
There are some pretty cool people out there in the world of social media and those cool people (or "influencers") have a lot of followers. Build up a camaraderie with influencers in your industry and then invite them to take over your account for a day. This will give your followers some new content and cause the influencer's followers to head on over to your page to see what's going on in your neck of the woods.
Every Day's a Holiday
Who says you have to wait until the major holidays to start celebrating? Some type of weird holiday or celebration happens EVERY DAY! Take a look at upcoming "weird" holidays and pick out the ones that you think will attract the interest or excitement of your followers.
Make Event Announcements
Hosting an event? Making an appearance in your community? Got a big promotion coming up? Keep your audience updated by posting about these types of events on your social media accounts!
School Your Followers
Who better to educate your audience on your brand or to teach them how to get the most use out of your products than YOU? Posting video tutorials that offer insider tips and instructions on how to use your stuff will ensure the highest level of product satisfaction while increasing user engagement. You might even consider hosting a live training session where you can answer customer questions in real-time.
Host Photo Contests
High-quality photos always capture the interest of social media users and you can use a photo contest to fill up your page with amazing, user-generated photos that will grab attention, spark engagement, and motivate your followers to share your content. For best results, use a special hashtag that's unique to your brand or products.
Channel Your Inner Weird Al
Everyone likes a good parody. Show your followers that you have a silly side and a great sense of humor by creating parodies of popular videos that are relevant to your industry or brand. This type of content is a lot of fun and is definitely share-worthy! Though this will take a lot of effort on your part, if you do it right, the results can be astounding.
Aspire to Inspire
Emotions are extremely powerful in the world of marketing and social media provides you with the perfect opportunity to tap into your follower's feelings and truly resonate with them. Create and share content that inspires, motivates, and uplifts in order to connect with your audience.
Give Back
Sometimes, social media can feel a little bit narcissistic but that doesn't mean that it can't also be used for good. Consumers like to work with businesses that give back and when you share the causes and charities that you are affiliated with, you'll be encouraging your fans to follow in your footsteps. By acting as a role model, you can build up your brand while making the world a better place.
Share Job Opportunities
Are you looking to fill a position within your company? Sure, you can hang a "Help Wanted" sign in your window or post on sites like "Indeed" to find a candidate, but don't leave your current fanbase out of the mix. You may find that someone in your target audience is more than qualified to work for your company – and they're already a huge fan! Job opportunities also encourage many readers to share your content, which is a whole lot of free advertising!
Be Relatable
Not all of your social media posts have to be directly about marketing or selling your products. In fact, today's consumers like to feel that they can relate to the brands they work with. One of the best ways to create these types of personal connections with your audience members is to post lifestyle photos or pictures that portray you and your team living your everyday lives and doing what you love. As your fans get to know your staff through social media, they'll start to feel like family, and that builds brand loyalty.
Regardless of how much you knew (or thought you knew) about social media marketing, you're sure to walk away with a ton of great ideas and a lot to think about. Let us help you take those ideas and turn them into a well thought-out social media marketing strategy that's tailor-fitted to your brand. Call Madison Taylor Marketing to learn more today.
Here When You Need Us
Have questions? Looking for more expertise? Ready to take the next step?