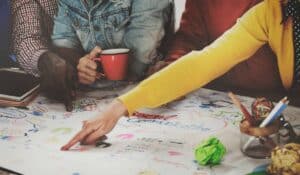 Marketing Mistakes That'll Harm Your Startup
Startups always have something to prove and it can often seem like the entire world is against you. Every step you take is scrutinized, and if you make any mistakes, you could very well fail before you've even had a chance to get started. This, of course, includes mistakes that are made when attempting to market your new business.
Today's discussion is simple enough. We're going to look at some marketing mistakes that startups seem to make most often. Avoiding these will help ensure success.
No Real Marketing Strategy
If your startup doesn't even have a marketing strategy in place, then why even get out of bed in the morning? The first thing you want to make sure you have is some direction. Excuse us… when we say some direction, we actually mean a lot of direction. If you don't know where you want to go, then you'll never get anywhere. Developing a marketing strategy can't just be a fly-by-night kind of operation. You need to put impressive resources behind it.
Trying to Do It Yourself
We understand that you're all smart businessmen and businesswomen, but they make marketing experts for a reason. Too many startups see marketing as a necessary but secondary evil, one that must be endured rather than celebrated. This means your heart isn't in it, and that's okay. We'll leave you to knowing and loving everything about your industry, and us marketing professionals will do the same.
Lack of an Effective Website
With so many options out there in terms of website design, not to mention the importance of having a website in the first place, there's a good chance you already have one up and running. The problem is that if you've done it yourself, so it might not be nearly as effective as it could be. What you want to do is seek out a marketing company that excels in website design to ensure that your site is the very best it can be from the get-go.
Jumping into the Fray with No SEO Strategy
In recent years, we've seen tons of changes in the way the Internet treats Search Engine Optimization, in large part because of new algorithms launched by Google and other search engines. This means that without the right SEO strategy, there's a good chance you'll be dead in the water. This is yet another thing that should be handled by experts, because they're the ones who know how to properly utilize content, meta tags, keywords, and other such elements.
Missing Buyer Personas
It's possible that you'll get lucky with your startup by simply inundating the masses with your fantastic products and services, but chances are, you'll fall flat on your face. Or, you'll do reasonably well, but your marketing dollars will be so high that you'll sink far faster than you'll float. The solution here is to create buyer personas that will allow you to target your audience effectively and efficiently.
Wrong Blogs or No Blogs
The idea that content is king isn't going away anytime soon. If anything, recent marketing strategies have shown that content is more important today than it was yesterday, and it will be even more important tomorrow. Startups that leave the gate without a blog are already lagging behind. And, just as importantly, having a blog that doesn't convey the right type of information won't really do anything except look pretty.
Marketing mistakes don't have to be the end of the world. With an experienced crew like Madison Taylor Marketing behind you, your startup can be positioned for success. Reach out to us, and we'll get you started!
Here When You Need Us
Have questions? Looking for more expertise? Ready to take the next step?