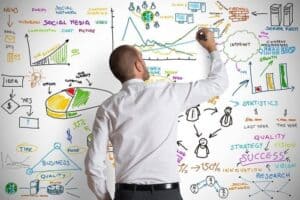 Marketing on a Shoestring Budget
If you remember anything as we dive further into the new year, remember this: proper marketing can make or break your small business.
You have a solid business. You have a fantastic product or service. Your employees are the best around and eager to take your company to the next level of success. The problem is that your business hasn't quite reached the size of a global corporation, so you don't have hundreds of thousands (or even a fraction of that) to spend on marketing campaigns.
While working with a reputable marketing company can really put you ahead of the game, there are certain ways that you can start right now, even on a shoestring budget. For our money, we suggest that you start with these two elements:
Blogging
Whether your website has already been designed or is currently "under construction," you'll want to get a blog started. While blogging started out as a conduit for chatty people to talk about their families or various subjects of interest, it didn't take long before businesses realized that blogging was a goldmine to draw potential customers in or keep current ones from going to the competition.
Your first option is to write the blog yourself or have someone in-house write it. This is your cheapest option, of course, but unless you are extremely stringent, it's also a bit of a risk. Customers love when blogs are consistently posted. If you can stick to a once-per-week schedule, then great. Unfortunately, since blogging isn't your primary business concern at times, many businesses seem to start out strong and slowly fall off a regular posting schedule over time. Outsourcing your blog to a marketing company can solve that problem.
As for what to write about, it should be obvious that your topics should be tied to your business. Your professional blog should not be an outlet for you to proclaim your political views or go off on a rant about why this competitor or that competitor "sucks" (trust us — we've seen everything). Your customers, both present and future, want to be given relevant information, not to read a controversial discussion every week.
Social Media
If there's one thing that rivals blogging in popularity and usefulness when it comes to inexpensive marketing, it's social media. You can hardly take two steps across the internet these days before you run into social media of some type. Whether it's Facebook, Twitter, Instagram, LinkedIn, Google+, Pinterest, or a combination of some or all of those, businesses can rarely exist these days without multiple social media accounts.
The rules governing the usage of these accounts should be right in line with blogging — don't use them as a soapbox for your personal views. Instead, stick to posts that are relevant to your business. Like blogging, you can choose to run these platforms yourself, but if it's in your budget, outsourcing here can works wonders as well. To get a good idea of what consumers like to see, check out our very own Facebook page here at Madison Taylor Marketing. There you will find links to relevant articles in the marketing industry, blogs written by our team of professional writers, music video postings to brighten up your Friday, inspirational quotes meant to, well — inspire, and others from time to time. Follow our lead or pick and choose, and you can't go wrong!
Blogging and social media are indispensable to the success of your business, so we'd suggest that you start there. Then head back here in the next couple of days for our follow-up post, where we will examine the usage of mobile marketing and SEO on a shoestring budget. Of course, if you want to get started right away in taking your company to the next level (and we certainly wouldn't blame you), contact the professionals at Madison Taylor Marketing and we'll get you started on the marketing plan that is right for you.
Here When You Need Us
Have questions? Looking for more expertise? Ready to take the next step?