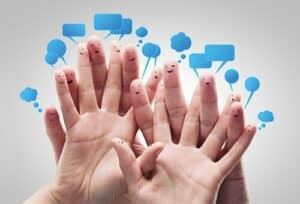 Mobile and E-Mail marketing on a Small Budget
If you're a small business looking for ways to market your products or services on a shoestring budget, we recommend that you start with part one of our two-part blog on the subject. That's where we focused on blogging and social media, two of the cornerstones of digital marketing that you simply cannot be without if you hope to succeed in the modern business world.
This week, we're back with two more important subjects to help you grow your business without breaking the bank. We're talking about e-mail and mobile marketing, so let's get started…
E-mail Marketing
With the advent of social media and other forms of digital marketing, you may think that e-mail marketing has not only fallen by the wayside, but is completely dead at this point. The reality, however, is just the opposite — not only is e-mail marketing alive and well, but it's still one of the best ways to hook new customers and keep past customers returning to your website.
Sending a group of e-mails to your customers is a very easy, cost-effective way to get the message across about your products and services. It's easy to write up an e-mail with the latest and greatest news about your company, and then send that news to hundreds or thousands of potential customers. It is also a fantastic way to send out special discounts or offers that will entice customers to either give you a try or come back for more.
The trick here is to devise more than one e-mail for each marketing campaign. Not all of your customers will be looking for the exact same thing. So if you want your campaign to be successful, it's a good idea to create a few different e-mails, each with a slightly different slant that is more likely to entice customers to visit your website and partake in some of your offerings.
Mobile Marketing
Perhaps that greatest shift to our culture's landscaper and, therefore, the marketing landscape has been the proliferation of the smartphone. Initially seen as a device for the elite, it didn't take long before cell phones went from obscurity to world-wide adoption. But what really changed both personal interaction and business opportunity was the iPhone, which was soon followed by other quality smartphones produced by companies eager to get a piece of the pie.
These days, millions of shoppers use their smartphones on a daily basis to "surf the web", read the news, play games, and so much more. Smartphones are equipped with the ability to utilize thousands of apps that allow you to chat with friends, send photos of your family, organize your finances, call a cab, and many — many — more things.
This new landscape of communication provides businesses with a fantastic opportunity to increase their profits. Businesses have discovered that they can use text messaging as a way to connect with customers by sending them special offers on a regular basis. Many companies — Subway, for example — will provide you with a coupon just for signing up for their text messages. In addition to this form of mobile marketing, another thing to think about is the fact that apps are available for Facebook, Twitter, and every other social media account in existence. This means that when you utilize social media (something we touched on last week), you'll be marketing to potential and existing customers no matter where they are.
Are you looking for ways to build your brand, create better marketing campaigns, and draw in leads that will actually convert to customers? The professionals at Madison Taylor Marketing have been helping businesses just like yours for several years now. If you're ready to take your business to the next level marketing prowess, our team can devise the perfect strategy for your business!
Here When You Need Us
Have questions? Looking for more expertise? Ready to take the next step?