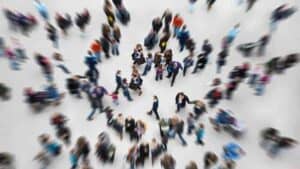 Marketing Optimization = Better Conversions
This isn't your grandma's world of marketing. Sure, billboards, print ads, and 30 second TV-spots still exist, but the vast majority of marketing efforts are being shifted to the online sector.
Why? In a word: information.
Online marketing allows for definitive knowledge pertaining to the number of people exposed to your advertisements, when they were seen, and how they responded to your efforts. We can even learn about what makes our consumer audience tick, and how to better cater to their needs. The key to attaining this information and obtaining valuable insights, though, comes from the constant improvement of inbound marketing via intelligent analysis.
Are you ready to take your inbound marketing strategy to the next level? This 3-part series will introduce you to 8 steps to optimizing your business's marketing assets for the highest level of success.
1. Begin With the End In Mind
It's easy to get caught up in the immediate results of inbound marketing. Yes, it's exciting to see that your content is driving more traffic to your website, but that isn't your end goal. Your end goal also isn't to have a perfect conversion rate on your top-of-the-funnel offer.  Instead, you should be focused on the end goal right from the very beginning, and that's to produce highly qualified sales leads that can be converted into buying customers. This means truly taking a look at what the objective is for each specific campaign so that you can sure that all of the supporting elements are in place for success. Are you trying to convince users to attend a webinar or take action to download a special offer? Every bit of your marketing strategy will need to be laid out as a means to an end that will enable you to make a sale.
2. Put Thought Into Calls-To-Action
Calls-to-Action (CTAs) should reflect the end goal of your marketing campaign. If the primary objective of your strategy is to motivate readers to download an offer prior to making a buy decision, you really need to take a good, hard look at your CTAs. The vast majority of consumer leads will be exposed to business offerings through a CTA, and that means that it needs to be really good. The CTA should have a very clear message, should be engaging, and should require an action that is both easy to understand and complete.
3. Make Landing Pages the "Face of the Offer"
Any time that you're offering premium content (such as eBooks, white papers, web presentations, etc.), that piece of content should have its own corresponding landing page that serves as its "gatekeeper". This is where you exchange your content for reader information as a means of moving consumers down through the sales funnel. Ideally, you should be shooting for a submission rate of between 5-15% on these landing pages. If you're not making conversions at the targeted level, you need to evaluate your landing page structure. Is its header clear, simple, and action-oriented? If someone were to glance at your page for a few seconds, would they be able to clearly identify the value of your offer? Is the form easy to find and fill out? If the answer to any of these questions is 'no', you should spend some time on adjusting your landing pages to increase conversion percentages.
4. Evaluate the Presentation of Your Forms
After taking steps to make sure that your landing page is fully optimized to speak to your readers' individual needs, you need to make sure that your forms are working for you – not against you. It's important to remember here that not all forms are created equal. If you think that you can simply grab a standard form template from a website and paste it onto your own pages, you are sorely mistaken. The entire purpose of a landing page is to convert a viewer into a lead, and the entire purpose of a form is to capture the information needed to do so. This means that it needs to be formatted in a very specific way that will speak to your audience and inspire them to keep moving forward with the process.
One of the first things you should consider is the actionable language presented by your form. After providing you with their information, will a reader be asked to click a generic "submit" button, or will they feel that they are receiving real value in exchange for their efforts by clicking "download" or "register". Next, look at the actual length of your page's forms. Are the length and requirements of the form actually proportionate to the value of the offer? Is the form longer than the page's text itself? The last thing you want to do is scare off a prospective lead because of the demands placed on them by your forms. While you want to obtain enough information to pass along to your sales team, you need to make sure that the form is reasonable and easy to complete.
5. Be Smart About Email
Email marketing campaigns can either be your best friend or your worst enemy depending on how they're executed and handled. In many cases, email campaigns take place after information is gleaned from a landing page form. After providing you with their email address, your leads will likely be expecting to receive some type of advertisement from your company. It's your job to make your offer truly speak to the reader as an individual and motivate them to make a decision. This means that you should be as specific as possible and personalize the packaging of your content. Be sure to, once again, utilize clear and actionable language that will inspire readers to click through and proceed to the desired next step.
6. Use Your Blog as the "Voice" of Your Brand
Maintaining a blog provides you with the ability to create a unique and active voice for your brand. This doesn't mean just pumping out form copy at your readers and cramming keywords down their throats, though. Instead, you should take the time to develop clever titles and interesting content that will not only create interest for your target audience, but also provide them with valuable information that will establish you as an industry leader that they can trust.
Once you've built the confidence of your readership, you can also use your blog as a means of promoting your other content and materials. This will keep your website relevant, push it up in search results, and keep visitors on your website longer, all of which increase the odds that users will find their way to your landing pages and drive sales conversions. For the best results, all blog posts and related content should include a CTA that will present the next step that the reader should take for the desired outcome. This will make certain that your readers have clear direction on what it is that they should do so that they don't navigate away from your page prematurely and miss out on important information.
7. Get Active With Social Media
Whether you love it or hate it, social media isn't going anywhere anytime soon. These platforms actually offer businesses the greatest opportunities to present their content and message to new sets of eyes. Don't stop at simply auto-posting your article to your Facebook, Twitter, Google+, or other social media account, though. Your ultimate goal is to truly engage and interact with your readership so that they will feel motivated to visit your site and be converted as a customer. This means asking important questions, posting on topical and current events, and "listening" to the conversations that consumers are having about your brand online.
8. Never Stop Improving
Yes, inbound marketing is intuitive. Yes, metrics can serve as a guide to making important decisions. Regardless of these tactical advantages, though, you don't want to rest on your laurels. Inbound marketing is both a science and an art that must constantly be evaluated and evolved to meet growing and expanding consumer needs. Something that works today might not work tomorrow, so you always need to pay close attention to the results that your marketing efforts are yielding and be prepared to change things up when your conversion rates grow stagnant. There's always room for improvement and thinking outside the box.
By this point, you should have a comprehensive understanding of how to best optimize your inbound marketing campaign for conversions. When you follow these important steps, you'll get the most "bang for your buck" and enjoy the highest success rates possible. Never underestimate the power of well thought-out and executed online marketing.
Interested in learning more? Give us a shout to discuss your options for further improving your inbound marketing strategy.
Here When You Need Us
Have questions? Looking for more expertise? Ready to take the next step?