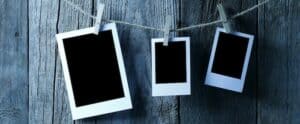 Next-Level Marketing Via Visual Content
With the year coming to an end, it's time to take a look at your marketing efforts throughout 2016 and reflect on what's working, and where your campaign could use a little help. If, when conducting this end-of-year review, you feel like something is missing from the mix, we suggest that you spice things up with some visual tactics.
You know all about the importance of blogging, staying up-to-date with social media posts, and using carefully selected key words and phrases throughout your content in order to boost your search engine results, but did you know that visual content is just as useful as written content?
Humans are visual creatures, and we're only becoming more connected to the concept of visual content as we grow increasingly attached to the availability of fast (almost immediate) information via the Internet and mobile devices. Consider the fact that throughout all of history and into 2011, an estimated 3.8 trillion photos had been taken. Now fast-forward to last year. In 2015 alone, an astonishing 1 trillion photos — nearly one-fourth of our entire history through 2011 — were taken! It makes sense when you understand that 90% of all information that is transmitted to our brains is actually visual, and that many experts agree that we learn and store memories through visual processes. Why wouldn't we crave more visual content, then, with the increased access and availability of such content via mobile devices like smartphones and tablets?
As a marketer, then, it's your job to leverage human attraction to visual concepts by developing awesome visual content of your own.
What are the best ways to reach your target audience on a visual level? Here are a few helpful tips and tricks:
Find the Right Platforms
In order to connect with your audience on a visual level, you need to engage them via platforms that are specifically designed to cater to visual needs. Pinterest, Snapchat, and Instagram are all great places to post visual content, and exciting, real-time video content can be shared via platforms like Periscope and Facebook Live. Use these sources to start showing, not telling.
Utilize On-Site Photo Galleries
A picture's worth a thousand words, which means that using visuals on your website can help de-clutter your pages and make them easier to scan and interpret in less time. This helps create a much more positive website experience, which is great for boosting business. The on-site photo gallery allows you to share a memorable message without taking up too much space on your web layout.
Use Emojis
Emojis aren't just for kids anymore! Sure, the silly cartoon faces and symbols may initially seem a bit shallow or unprofessional, but they're actually becoming a social norm. If you've invested in SMS marketing, the use of emojis can make your text blasts feel more personal and accessible, thus increasing the likelihood of a positive consumer response.
Create Infographics
Enough with the boring facts, figures, and statistics! People have a difficult time processing this type of information when given to them "straight", but your points are much more likely to land and stick when they are presented within the scope of an interesting and engaging infographic.
Get Visual with Product Descriptions
You can't rely on text blocks of product descriptions to sell your customers on your goods. Today's customers want to see your product — from every angle, and even in action! Use 360-degree cameras to provide an all-over look at what you have to offer, and upload video demonstrations and descriptions to show how your product works.
Are you ready to make a strong, visual impression in 2017? Partner up with the pros at Madison Taylor Marketing to get going today.
Here When You Need Us
Have questions? Looking for more expertise? Ready to take the next step?