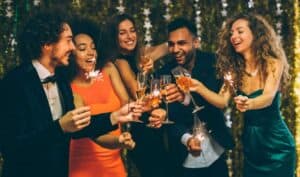 Why Next year's Inbound Starts Today
It's the final countdown! Although it's hard to believe, 2017 is quickly coming to an end and now is NOT the time to start resting on your laurels! Although it can be tempting to stop worrying about your inbound marketing strategy in lieu of holiday parties and winter vacation days, slacking off during this critical time of year is a big mistake. After all, you want to be able to start hitting your consumer audience hard from the very beginning of the new year, and that means having a solid strategy in place. In order to help get you geared up and planning ahead, here's a quick look at what types of things you should be doing to plan your inbound marketing tactics in 2018.
Keyword Research
It's time to start coming up with your keywords for the new year. Although certain words and phrases may have worked well for you throughout portions of 2017, your customers' interests and thought patterns may have shifted somewhat between then and now. It's smart to make use of Google analytics tools to research which types of keywords and topics are trending. You might also consider scoping out your competitors' blogs and social media accounts to see which topics and subjects are generating the most engagement with your target audience.
Content Brainstorm
Although the inbound marketing industry is constantly changing and evolving, one thing always remains the same: content is king. Without high-quality, engaging, and useful content, you've got nothing to build on. To get your audience excited, you'll need to start the year off strong with some helpful and thought-provoking blog articles, infographics, videos, or other form of superior content. Start brainstorming with your team to determine what's trending right now, what your creative vision is for the new year, and how you want to connect with your audience. Come up with titles that reflect these goals and incorporate your keywords and phrases.
Set Your Calendar
One of the biggest mistakes that businesses make with their inbound marketing strategies is in being inconsistent. Having a predictable posting schedule is essential to building up a recurring audience and truly engaging with your existing and prospective customers. It's never too early to break out the calendar and start planning which days you plan on posting which types of content. This is also a great time to do some research into the peak times for posting on social media so that you can map out your schedule accordingly. Locking dates into your calendar may seem like a lot of work initially, but it will make your life so much simpler in the long run. From here, it's easy to generate daily task lists, and your entire team will know what to expect.
Step Up Your Social Game
2018 is no time to start shying away from social media. In fact, experts predict that even more consumers will be relying on social channels like Facebook, Twitter, and LinkedIn to communicate with small to mid-size businesses and to get information about products and services. Use this time at the end of the year to make sure that all of the information on your social accounts is correct and up-to-date, to evaluate how frequently you'd like to post to these channels, and to determine which types of posts have historically been the most successful. This is also a wonderful time to reach out to key industry influencers and start making friends that can help you in the future.
While this list of tips for planning your 2018 inbound marketing campaign is certainly not comprehensive, it's a great start. From here, the experts at Madison Taylor Marketing are happy to help. Give us a shout to learn more today.
Here When You Need Us
Have questions? Looking for more expertise? Ready to take the next step?