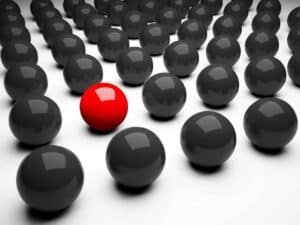 Making Your Brand Stand Out With Personalization
When was the last time you called a major business on the phone and didn't end up screaming, "TALK TO A REAL PERSON!" at the automated voice at the end of the line?
Though it's sad and frustrating, this has become the new normal. But while robots and automated services have become the status quo in this modern world of ours, many customers still crave the personal touches of yesteryear. Can you imagine how much your business would stand out and shine if it were to offer personalized services?
Yes, we understand that personalization isn't always the easiest thing to do. You're busy. Your company is busy. But, are you really too busy to do the things that could ensure your survival? While many businesses fade away into the night, having automated their way into the faceless crowd so deep that they couldn't be recognized by their once-loyal customers, those enterprises that take the time to incorporate personal touches into their daily work have the luxury of charging a premium for their services while establishing a strong and dedicated customer base. Which type of company do you want to be? Those looking to thrive in the last years months of 2016, and far beyond, would do well to follow these tips for providing personalized services:
Direct Access
When people speak to customer service reps, they want to know that their problems are really going to be resolved. They don't want to have to call back an hour, a day, or a week later with the same problem and have to explain it all over again to another rep. They don't want their queries to go unanswered. And they don't want to be forgotten. Train your reps to go the extra mile, providing customers with direct access to their email or phone extension. Customers will have a lot more faith that they'll be taken care of when they're given a direct email address rather than a generic "customerservice@companyname.com" address.
Emphasize Training
Good customer service begins with training. After all, your reps can't offer a positive, personalized experience to customers unless they're actually competent at their jobs. This means that each rep should be trained to understand the ins and outs of your company's procedures. In this way, they'll have the ability to create custom solutions to customer problems instead of just another "cookie cutter" quick fix.
Empower Your Team
While we're on the subject of training, you might consider teaching your customer service reps how to take the initiative and make executive decisions about how to respond to challenging service situations. During this training, you can offer certain guidelines and parameters surrounding those decision-making capabilities while still giving your team the freedom to be creative and fluid with their problem-solving skills. This will improve employee commitment to customers and resolving specific issues, as opposed to quickly passing a customer off to a manager or higher-up. In the long run, this will not only improve staff abilities to better resolve customer issues, but it will also make customers feel more valued.
Create Warmth
Assemble a team that's hospitable and genuine. Making your customers feel welcome and comfortable from the get-go will increase the likelihood of positive transactions, thus encouraging return-business and customer referrals. Train employees to remember and address clients by name, to take a genuine interest in customer needs, and to always offer a friendly face.
Empathy Counts
It's never fun to deal with an angry customer, but teach your employees to put themselves into the customer's shoes. After all, the client isn't having any fun, either! Instead of becoming defensive or irritated, your team should learn to identify with the caller's feelings, address them specifically, and take whatever measures necessary to resolve the problem.
Here When You Need Us
Have questions? Looking for more expertise? Ready to take the next step?