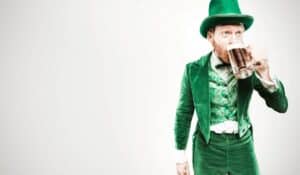 St. Patricks Day Brewery Marketing Tips
This coming weekend marks yet another St. Patrick's Day, and we couldn't be more excited. And if you're a brewery, there's a good chance that you're already gearing up for additional business from people getting out and celebrating.
But, is your brewery taking full advantage of the holiday? While marketing is always important for every business, St. Patrick's Day offers a unique opportunity to introduce people to your establishment and keep them coming back for more throughout the year. Here are some of our favorite marketing tips to help you make that happen:
Engage on Social Media
People who head out with family and friends on St. Patrick's Day are the same ones who interact on social media on a regular basis. You can take advantage of that by advertising your upcoming celebration on various social media platforms. Facebook and Twitter are great, but make sure you have a robust Instagram presence as well. Snapchat is also a great choice, as it allows you to interact with people looking for a place to go – in real-time! Make each post lively and entertaining, and you will draw more people in.
Give Discounts to Anyone Wearing Green
Everyone wants to get a good deal, especially if it means cheaper alcohol on a night like St. Patrick's Day. Most people will be prepared to wear green on the holiday anyway, which means your brewery is basically providing them with an easy decision on where to go for the night. Just be sure that you don't keep the discount a secret. You need to tell people exactly how much they'll be saving. This is where the aforementioned social media tip comes in, but don't forget to put signs up at your brewery, too!
Make It St. Patrick's Weekend
Who says St. Patrick's Day needs to last only one night? What's good for one night is good for an entire weekend! By advertising that you'll be having a St. Patrick's Weekend, you'll immediately grab people's attention. The best way to do this is to create a somewhat different approach to each evening. You can start off a little light on Friday to introduce people to the promotion, have your big day on Saturday, and then follow that up with a low-key kind of evening on Sunday to top it off.
Have a "Flair" Contest
If you've ever seen the movie Office Space, then you know exactly what we're talking about (and if not – are you crazy?). You could always present a costume contest for your patrons, but there's even more fun to be had when you focus on adding flair to existing outfits. You'd be amazed at the types of clothing decorations people come up with, especially if there's a chance they'll win a prize for participating. This is definitely a great way for people to remember how much fun they had on the holiday.
Don't Forget to Theme It Up
Like other holidays, St. Patrick's Day comes with its own theme. You want to make sure that you don't miss any of the holiday's staples, such as leprechauns, four-leaf clovers, and of course, GREEN! Hang up decorations… purchase clover-shaped coasters… have a leprechaun doll set up for a photo opportunity… whatever you can come up with! Spending just a little money to give patrons an awesome experience will bring them back for more.
Would you like to engage in marketing that works for your brewery all year round? Give the professionals at Madison Taylor Marketing a shout and we'll design a strategy to help put you ahead of the competition.
Here When You Need Us
Have questions? Looking for more expertise? Ready to take the next step?