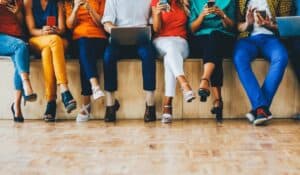 Overlooked Traits When Searching for an Inbound Marketing Agency
Choosing the right inbound marketing agency to partner with is no laughing matter. Because inbound marketing has become the lifeblood of companies from all industries and backgrounds, your business needs to make sure that it can not only keep up with the competition but also outshine it. This means finding a marketing company that is ready to kick ass and take names – day in and day out. So, how can you tell the difference between a mediocre marketing agency and a truly remarkable one?
The following four qualities are too often overlooked during the search for the ideal marketing company but they can make a huge impact in the overall level of your success.
1. Committed to Talent
Inbound marketing is all about creating stellar content that will delight, inspire, educate, or entertain your target audience. Who's going to be writing your blogs? Who will be responsible for hammering out exciting social media posts? In order for inbound marketing to work for your business, your marketing agency needs to be committed to employing talented individuals with a knack for whipping up high-quality content in a way that accurately represents your brand and voice. Take a look at your prospective marketing company's website and evaluate its content. Is it filled with typos? Is it totally bland? If so, it's time to direct your attention elsewhere. Never settle for a marketing agency that's willing to utilize subpar talent.
2. Investment in Sales
You should consider how your prospect's sales process works and evolves. Do they practice what they preach and maintain a blog and social media account of their own? Do they have a comprehensive understanding of the sales funnel? Do they stay on top of the latest sales trends? Do they follow through with CTAs and lead capture forms? If your marketing professional is going to be able to help take your business to the next level, they need to be staying on top of their own sales and marketing practices. They should be skilled in the fine art of attracting and nurturing leads, as well as closing deals.
3. Marketing Agility
Although the idea of inbound marketing has been around for several years now, it's still considered to be a "new" marketing tactic and it's constantly evolving. You can't afford to align yourself with a marketing agency that's stuck firmly in one place and refuses to adapt to change. As new technologies are deployed and trends come and go, your marketer needs to be able to quickly respond to those changes and make sure that your business comes out on top. They should always be locked and loaded, and totally ready to dive into the next "big thing" in inbound.
4. Good Culture Fit
Don't underestimate the importance of finding a marketing agency that's a good fit for your brand's unique personality, vibe, and ideals. Take the time to get to know your prospect and make sure that your visions align before making a final decision. This will make your marketing efforts that much more effective.
Madison Taylor Marketing is ready to help you boost business and improve your brand. As experienced marketing professionals, we're committed to providing you with the very best of everything so that you can grow and thrive. Let's get started!
Here When You Need Us
Have questions? Looking for more expertise? Ready to take the next step?