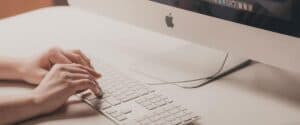 Search Engine Optimization (SEO) is a critical component of your inbound marketing strategy. Because SEO trends tend to evolve and change so frequently, though, it can be difficult to stay on top of the most effective (and might we say "coolest") new ideas. Fortunately, we're here to stay on top of all of that stuff for you. By remaining current with the latest and greatest SEO trends, we're able to help you revamp your SEO strategy and improve your business.
Be Smart About Naming Your Site
Sometimes, people get a little crazy with their domain names. Unfortunately, lengthy or wordy domain names can be difficult to remember. Introducing strange spellings, hyphens, and other characters to the mix can make things even more challenging. Come up with a short and simple domain name that clearly conveys who your brand is and what you are about. In addition to helping your target audience find you, this will provide web crawlers with more information about your site and will improve search rankings.
Make Your Site About One Thing
One of the primary reasons why websites are flagged by web crawlers (or why user bounce rates are high) is that the website itself seems to be "all over the place" and its content doesn't appear to align with its name, keywords, or primary purpose. In order for your website to be successful, you need to make sure that all of the content you are creating for your page is related to your brand's main objectives. Headings, titles, keywords, and meta descriptions should all be in line with these objectives.
Index Your Website
Once you've set up your website, be sure to take the time to make sure that the site has actually been indexed by search engines. While this process is supposed to happen on its own, it can take time for your page to be picked up by search engines, so it's smarter to take matters into your own hands.
Keep Things Moving Quickly
In many cases, businesses notice that their websites get knocked down in search rankings because their pages were loading too slowly. In today's fast-paced world, your website needs to be able to load and function as quickly as possible. Be sure to double check your page's load times when accessed from numerous devices and different operating systems. Be sure to get rid of anything that could be slowing down the site, such as overly-large images, flash images, plugins, or music players.
Know Where to Place Keywords
Keywords shouldn't just be thrown into your website "willy-nilly." Instead, you should have a clear strategy for where and how to incorporate keywords throughout your site. Obviously, keywords are useful when coming up with your site title and domain name, but they should also be found in taglines, blog categories, headlines, meta descriptions, page titles, etc. In addition to this, you should always include keywords when providing a description for images used throughout your website.
Use Internal Links
Keep your readers on your website by providing relevant links across internal content. This is a simple and effective way to boost your search engine rankings while getting a better idea of which topics are generating the most interest from your target audience.
…And External Links
While you want to use external links sparingly (after all, this can lead users to navigate away from your site), it can also work to your benefit. When you are smart about it and people follow these links, search engines will view your site as a trusted authority.
Update Your Website Often
Have you ever wondered why sites like Wikipedia always pop up first in search engine rankings? It's because the site is constantly being updated with fresh new content and information. Websites that frequently update their blogs with dynamic content are much more likely to improve SEO than those with stagnant content. For best results, create a schedule for posting updates to your site and stick to it.
…With Excellent Content
Just because you want to update your content frequently doesn't mean that you want to spread yourself so thin that you're posting "fluff" or low-quality content to your pages. This will turn your audience off and increase bounce rates on your website, thereby knocking you down in search engine rankings. Web crawlers are becoming increasingly sophisticated and are finding new ways to distinguish between useful, original content and meaningless drivel, so make sure you're putting an emphasis on quality over quantity.
Streamline Local SEO
For brick-and-mortar businesses, Google Adwords can be a very useful tool for improving SEO. Adwords' distance and store visit reports can provide valuable feedback on how your locations are doing in terms of local searches. This allows for effective insights that will empower you to streamline your efforts for even better results. In addition to this, you should be making sure to take advantage of all tools available to help you zero in on a geographical audience. For example, Facebook makes it possible for you to geo-target your Facebook Live posts to either include or exclude certain locations. This will ensure that you're reaching only those in your target area.
Embrace Videos
Content is "King." Backlinks are "Queen." Video is like having the best of both worlds. Video allows you to generate unique, exciting, engaging, entertaining, informational, and highly shareable content that feature backlinks to your website. It's one of the fastest and most effective ways to quickly bolster SEO and get your name out to the masses.
Get Visual
Does your organization run an e-commerce store? If you're selling your products online, you should be appealing to your buyers visually. This means that it's high time you set up image-based social media accounts, such as Instagram or Pinterest. Instagram has even been rolling out shopping features and will continue to expand its e-commerce capabilities into the future.
Think: Voice Command
Have you been having conversations with Siri, Alexa, Cortana, or "OK Google" lately? Well, you're not the only one. Voice command/voice search is the way of the future and you need to be thinking about this as you come up with keywords that will be relevant to consumer search terms. Consider the fact that people may use different verbiage or lingo when conducting a voice search than when typing out a written search. Make sure to cater to both written and voice searches in order to hit all of your target audience.
Figure Out What's Going Wrong
If there are certain "exit pages" where readers tend to navigate away from your website, you need to spend some time figuring out why. Working to understand and remedy the issues will help you keep people on your site longer and improve overall SEO.
Review and Purge
Businesses that have had a blog for quite some time may want to take some time to go back and look at older posts. It wasn't all that long ago when business bloggers were still creating "fluff"-type postings that were filled with thin content and stuffed with keywords in an attempt to improve SEO. Unfortunately, these blogs can actually hurt your SEO strategy in today's world of modern bots and web crawlers. Get rid of anything that could be holding you back so that you can build for a stronger future.
…Or Review and Splurge
Not all of your old content is bad content! Take a look at what's driving customers to your website. If there are old pieces of content that are still pulling in new readers, you need to capitalize on that ASAP. Figure out what it is about that particular piece of content that is resonating with your audience, and then repurpose it. Take this content and figure out a way to turn it into multiple forms of media, including videos, infographics, ebooks, tutorials, and more. This will help you lure even more people in.
Offer Social Services
Customer service isn't just for in-person clientele anymore; it's for social media, too. Offering customer service through sites like Facebook is a great way to improve your search engine ranking and boost business. Facebook Messenger allows you to conduct business so that clients can actually make purchases through the application. This will create more traffic both to your Facebook page and your main website, moving you higher up in search results.
Branch Out
Yes, platforms like Facebook and Twitter are the "reigning champs" in the world of social media, but that doesn't mean that you should be limiting yourself to these social experiences. Consider your target demographic and make sure that you have a presence in the areas where they are "hanging out" online. Reddit, for example, is the ninth largest website in the entire country. You can start getting noticed there by doing some testing with their sponsored content ads.
Make Friends
It's very important to have allies for your SEO marketing strategy. Having the ability to get other websites, thought leaders, industry experts, and key influencers to link to your content is huge for SEO, and the only way to make this happen is by taking the time to develop positive relationships. Start following the people and pages that you want to "win over." Comment on their posts and share their content to build up a rapport before asking for a shout-out or a link.
Get Professional Help
Whenever you make the decision to revamp your business website (or build one from scratch), it's imperative that you seek out the help of an SEO expert. These marketing experts know how to optimize your entire site for search engines, and how to create a layout and navigational system that will keep users on your page instead of clicking away.
We've covered a lot of ground in just three short posts, and by now you should have what you need to improve SEO for your business. Even so, navigating the ever-changing waters of SEO marketing strategies can be time-consuming and overwhelming. For faster, simpler, and more effective results, we suggest partnering with us today.
Here When You Need Us
Have questions? Looking for more expertise? Ready to take the next step?